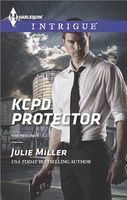 Series:
Precinct
(Book 22)
There was no way Deputy Commissioner George Madigan was going to let his beautiful assistant fall prey to a stalker. Because Elise Brown wasn't just another employee. Her vulnerable blue eyes triggered all of George's protective instincts…and now her life was in jeopardy.
Working together almost 24/7 to bring the perp to justice -- and sharing kisses passionate enough to ignite a Kansas City heat wave -- George and Elise had forged the kind of partnership that could keep her out of harm's way and potentially lead to happily ever after.
Until a deadly tornado struck and Elise was taken hostage….
Fantastic book. I love this series of books and this one was no exception. Elise is the executive assistant to the Deputy Commissioner. She prides herself on doing her job very well. I loved seeing her do the Radar O'Reilly thing, having things ready for George before he even asked for them. In her previous job she had fallen for her boss, and when that didn't work out found herself involved with a man who was just using her. As a result, she has sworn off all romantic relationships. However, that doesn't stop her from noticing that her boss is a really sexy man.
When she starts receiving strange gifts and letters, George's protective instincts kick in. He's always been aware of her as a woman, but knows the rules regarding bosses and subordinates. He can't stand by and watch her be terrorized, so he sticks close to her. With all that time together, their attraction really starts to blossom.
I loved the fact that George is a more mature hero at the age of 50. He's got the patience and experience to deal with the search for the stalker, and also with his growing feelings for Elise. He is cautious about a relationship because of the age difference between them, but he can't deny his feelings for long. I also liked the fact that Elise is old enough to know her own mind and what she wants. Once she accepts her feelings for George, she has no problem telling him what she needs. I also loved the way that she kept reminding him that she doesn't see him as old at all.
The stalker storyline has been done frequently in the Intrigue line, but this was not a tired old story. The incidents were definitely creepy and their attempts to frighten Elise were effective. I loved seeing George dust off his detective skills and also involve other members of the KCPD, especially those we've seen in earlier books. With every incident there seemed to be another possible suspect. I often figure out who it is by the halfway point, but this one kept me guessing until almost the last minute. The tornado that hits the city just adds to the intensity of the final conflict.