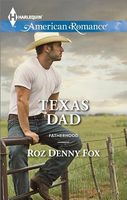 Series:
Fatherhood
A Picture-Perfect Husband?
Mack Bannerman is many things -- a rancher, a Texan, a father…a widower. His twelve-year-old daughter, Zoey, wants him to remarry, so she enters Mack in a magazine contest, hoping to find a wife for him -- and a mother for her.
Photojournalist JJ Walker, formerly from Texas, is sent to Turkey Creek Ranch to take photos of him for the feature. But JJ and Mack have a past together. One full of mistakes and misunderstandings that left them both with broken hearts. When Zoey catches on that they used to be involved she'll stop at nothing to make them fall for each other again. Never underestimate a girl who's determined to play cupid!
Good second chance story. Mack is content with life as it is, taking care of his ranch and his twelve year old daughter. Zoey, however, isn't as happy. She's getting to the age where she'd really like to have a mom, but her dad isn't cooperating. So, without his knowledge, she enters him in a magazine contest, hoping that he'll win and get introduced to a potential mom for her.
JJ is a photojournalist for the magazine and is the one assigned to do the story about him. She's not happy about it because she and Mack were engaged back during college. But she overheard something that made her believe he'd been unfaithful, so she left him without explanation. She's determined to get through this assignment as quickly as possible, before she gets involved with him again.
Mack is stunned to see JJ again, and not very happy about the reason why. But he loves Zoey and puts his own feelings aside to do this for her. He doesn't expect to find that his feelings for JJ are still alive and getting stronger every day. But he was burned by her once before and he's not so sure that she's going to stick around this time.
I liked seeing Mack and JJ getting to know each other again. The attraction is still there, but both are wary about getting involved again. Mack seems to be especially skittish, and has a tendency to jump to conclusions. There's a scene where the ranch is threatened by a fire while Mack is away and in spite of everything JJ does to try to protect it, Mack says some really terrible things to her before he gets the facts. I was quite happy to see JJ stand up for herself and not let him off the hook easily. Things start to look a bit more promising for them, until a secret Mack has been keeping comes to light and throws another wedge between them, accentuating that they never really dealt with their past. Now they have to decide if their love is enough to overcome the problems.
I really enjoyed the part that Zoey played in the book. She knows what she wants and she has no problem with working to achieve it. I also liked the realistic way she was portrayed. Her desire for a mom is fueled a great deal by the fact that she doesn't feel like her dad really understands what it is like for her. She has a great relationship with him, but he is a clueless man after all. I liked seeing how well she and JJ hit it off. Once she discovered that Mack and JJ had once been in love, her determination to bring them back together was fun to watch.