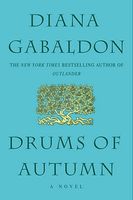 Series:
Outlander
(Book 4)
It began in Scotland, at an ancient stone circle. There, a doorway, open to a select few, leads into the past -- or to the grave. Claire Randall survived the extraordinary passage, not once but twice. Her first trip swept her into the arms of Jamie Fraser, an eighteenth-century Scot whose love for her became legend -- a tale of tragic passion that ended with her return to the present to bear his child. Her second journey, two decades later, brought them together again in frontier America. But Claire had left someone behind in the twentieth century. Their daughter, Brianna ...
Now, Brianna has made a disturbing discovery that sends her to the stone circle and a terrifying leap into the unknown. In search of her mother and the father she has never met, she is risking her own future to try to change history ... and to save their lives. But as Brianna plunges into an uncharted wilderness, a heartbreaking encounter may strand her forever in the past ... or root her in the place she should be, where her heart and soul belong....
The story continues. In Voyager, Claire made the decision to go back through the stones to find Jamie, who had survived Culloden after all. Their adventures brought them to the coast of the colony of Georgia and the chance of a new life in the New World. Their initial plan is to go to North Carolina and find Jamie's aunt Jocasta, who had moved there years ago, and then put young Ian on a ship back to Scotland. While there, they receive a letter from Jenny, asking them to keep Ian with them and therefore giving him a better life than he'd have in Scotland. Their trip isn't without its troubles, as they are robbed, meet a pirate named Stephen Bonnet, and run into slave problems on his aunt's plantation. Jamie longs for land of his own and with the encouragement of the governor of the colony, he and Claire head for the hills and establish their new home on Fraser's Ridge.
Meanwhile, back in modern day Scotland, Brianna desperately misses her mother, but is growing ever closer to Roger MacKenzie Wakefield. Until the day she discovers a newspaper article detailing the deaths of her parents in a house fire. Determined to try to change history, she makes a leap of her own in order to go find them, leaving Roger behind. Not to be outdone, Roger follows behind her. He is able to find her, then they pledge themselves to each other before Roger goes off to find a way for them to get back home after they deliver their message.
While separated trouble finds Brianna before she can find Claire and Jamie, leaving her with consequences that could keep her from going home. Through a terrible misunderstanding, Jamie and Ian intercept Roger before he can catch up with Brianna, and they give him to a far away Indian tribe, hoping to keep him far from Brianna. When the truth is known, Jamie and company must find a way to get Roger back.
Once again the book is rich with historical detail and characters that leap off the page. I loved Brianna's determination to save her parents even though she has no guarantee that she can make the trip. I really liked seeing her make her plans and carry them out. The part that Bonnet plays is multilayered, and affects both Claire and Brianna, though in different ways. I was frustrated by Jamie's actions, as I thought he should have at least listened to what Roger had to say before taking action. I loved Brianna's first meeting with Jamie - so emotional. The description of what happened in the Indian village, both to Roger and Ian made me feel almost as if I was there. I also felt for Roger because of the decision he had to make, even though I was sure he would ultimately make the right choice. I loved seeing Lord John and Willie show up on Fraser's Ridge, and seeing the effect it had on Jamie. I also loved seeing John step in to help Brianna.
I really enjoyed seeing life in the colonies as events are growing closer to war with England. With Claie's knowledge of the future they know what side they should take, but hope to avoid fighting entirely. I loved seeing Bree and Roger get back together and get to be the support that that each other needs.