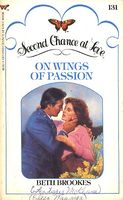 Series:
Second Chance at Love
(Book 131)
Fiery journalist Erin Quinlan doesn't want to write the military expose assigned to her. But the job will give her a chance to hurt the Air Force as it hurt her. Revenge will be sweet -- even if it can't bring back her husband.
Captain Ty Phillips obviously doesn't relish playing host to hostile Erin, and their tempers clash like steel on steel. But Ty's cool control in the cockpit earns Erin's deep respect... just as his powerful embrace sends her spinning into the stratosphere. Then their professional commitments force them to separate... and, heartbroken, Erin faces a bleak future without the man she loves.
Good book. Even though it was written thirty years ago, it still felt just as relevant to today's issues. The sparks really flew between Erin and Ty from the minute they met. Erin is a reporter for a national magazine. Her editor has assigned her to write an article on the B52 bomber and its usefulness. Erin has a grudge against the Air Force, as her Army husband was killed in the crash of an Air Force plane. Her editor and the magazine's publisher want her to write an article slanted against the plane and for ending that part of the country's defense strategy. When she is met by Ty upon her arrival for the first part of her research trip, her anti-Air Force attitude is in full swing. She is incredibly hostile and really rude to him. She is also attracted to him, which really messes with her need to keep her focus.
I loved Ty from the very beginning. He hadn't had a choice in being assigned to be Erin's escort, but he was determined to do it right. I really liked his initial meeting with her. I thought he took her rudeness for a long time before he called her on it and I was impressed with his patience. He could tell right away that she came in with a bias against the Air Force and was determined to show her the truth. He was also attracted to her beauty, her spirit, and her intelligence. He's also a bit wary, as he had been married to a woman with a career who couldn't handle the stresses of being married to him.
Though Erin came in with a desire to write the article her editor wanted, it didn't take long for her to realize that she wouldn't be able to do it. The more she learned about the bombers and their mission, the more she was convinced of their necessity. She was also growing closer to Ty himself. The attraction was there and growing stronger each day, but there was also a growing emotional attachment. She has spent so long relying on only herself, that suddenly having a man like Ty at her side, being there for her if she needs him, creates some confusion of feelings for her. She wants him but their lives are so different that she can't see anything coming of it.
I loved seeing Erin and Ty getting to know each other. Ty is very good at seeing behind the tough surface that Erin projects to the woman underneath. He seems to know exactly when she needs to be close and also when she needs some space to work through whatever is on her mind. He sees her strength, but also her vulnerability. I really liked Erin's change of heart toward Ty. She had started out looking at him as the representation of everything she hated, but soon grew to see the man beneath the uniform, His integrity made a huge impression on her, that he didn't try to pressure her about her article. On the personal side, she felt his care and concern in everything he did for her. I really liked the respect that they each had for the other's profession by the end.
When her trip ends, she has to go back to New York to write her article and Ty is sent on a mission with his crew where they will be out of touch. Erin is struggling with what to write, because she knows the truth of what she learned, but she's getting massive pressure to write just the opposite. The final confrontation comes, and I loved seeing Erin stand up for herself and what is right. Her editor starts to get really nasty in his efforts to force Erin to do what he wants, until a surprise visitor causes him to back down. The rest of the book was beautifully done as Ty and Erin continued the exploration of their relationship to the perfect HEA.
I loved the details shown through Erin's research. From the pressure chamber and Erin's reaction to it, to the flight she took with the crew, I felt like I was there every step of the way. I also loved the camaraderie of the air crew, from the way they teased each other to the way they accepted Erin and made her feel so much a part of them. The Thanksgiving dinner was a perfect example of what life is like with a group like that.