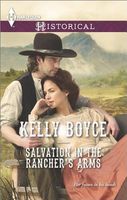 Series:
Salvation Falls
(Book 1)
"HE HAD MORE THE EDGE OF AN OUTLAW THAN A SHINING KNIGHT."
Rachel Sutter's world is turned upside down when Caleb Beckett rides into Salvation Falls. He brings news of a poker game gone disastrously wrong -- not only has her wastrel husband been killed, he's also gambled away Rachel's home!
Suddenly, Rachel is left with nothing but an unpaid debt, and Caleb is holding all the cards -- not to mention the deed to her land! There's something about the enigmatic drifter that she is instinctively drawn to, but how can she begin to trust him when so much of his past is shrouded in mystery?
Lovely romance between a man with a dark past but an honorable heart and a woman who is vulnerable but determined to protect her family. Caleb arrived in Salvation Falls bringing the body of Rachel's husband home to her. Robert had been killed during a high stakes poker game after losing the ranch to Caleb. All Caleb wants to do is deliver the body, give the deed back to Rachel, and get out of town before his past catches up to him. But when he discovers that Rachel also owes money for her husband's gambling debts to a devious neighbor, he feels compelled to protect her and her brother and adoptive son.
Rachel is devastated to learn that her husband has gambled away her family's land. Her marriage had not been what she expected or hoped, but she had done her best. She doesn't know what will happen to her and the boys now. When Caleb offers her a job and the chance to stay on the ranch until they can figure it out, she takes him up on it.
There is a sizzling attraction between Caleb and Rachel, but both try to resist it. Rachel is stubborn and determined to protect her family, which gets her into a couple sticky situations. Caleb is haunted by the abuse he suffered as a child, and its effects have turned him into a loner and a drifter. But in spite of it all, he still is an honorable man, with an inner core of kindness and practicality. He really wants to protect Rachel from the consequences of her husband's actions, but her stubbornness and pride are making it difficult. I loved the conversations between them as humor, attraction and sheer stubbornness have them growing closer than either expected.
Caleb finds that his desire to move on is disappearing the longer he stays on the ranch. He starts to think that maybe he's ready to put down some roots with Rachel, but there's still a big secret that he's keeping from her. He knows he has to come clean before that can happen, but he's afraid of what her reaction will be. This secret adds an interesting twist to the story and a point of conflict between Caleb and Rachel that nearly ends their relationship.
The secondary characters are as complex as the main ones. Young Ethan's back story is heartbreaking, but his intelligence and curiosity are a great comparison to the unhappiness of Caleb's youth. Yet the two of them connect in a way that shows what a wonderful role model Caleb could be. Rachel's teenaged brother Brody is another matter. His moodiness and impulsiveness give Rachel fits, and sends him into a danger he has no experience to deal with. The neighboring rancher, Shamus Kirkpatrick, is determined to have Rachel's land and Rachel herself, and will stop at nothing to get it all. The final confrontation was nerve-wracking as things went bad quickly and I wasn't sure how it would all turn out.
I'm looking forward to reading the next book, this one about the sheriff of Salvation Falls.