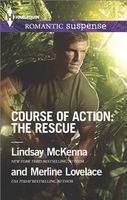 Series:
Sidewinders
(Book 2)
Jaguar Night by Lindsay McKenna
When a U.S. General's daughter is kidnapped, Marine Staff Sergeant Josh Patterson is handpicked to rescue her. While they trek through the jungle to safety, her strength and a surprise kiss change everything.
Aly is a nurse in the Brazilian jungle, helping out with a medical charity. She gets kidnapped by a drug lord who has health problems. Josh is a Marine who is sent in to rescue her.
The story is short but action packed, starting with Aly's kidnapping by a drug lord. There is an immediate sense of just how much danger she is in. Aly is terrified, but her mind continues to work as she tries to figure out how to escape. She knows she is in deep trouble.
Josh is a special forces Marine who is tasked by a general, who is also Aly's father, to go in and rescue her. From the moment he sees her picture, Josh is drawn to her and is even more determined to rescue her.
From the moment that Josh appeared in her room, Aly felt protected in a way she never had before. She lost her mother and older brother in a car accident when she was twelve, an accident that also critically injured her. Her father shut down emotionally and wasn't there to help and support her as she recovered. That recovery gave her a will of iron that will be critical in their escape.
The connection between Aly and Josh was immediate and strong. Aly felt Josh's care and concern from the beginning. His kindness and support gave her the strength she needed to get through the ordeal of their escape. Josh was incredibly impressed with the way that Aly was able to overcome her own pain to make their escape possible. Those feelings quickly turned to love for both of them.
Josh was a bit cautious about their feelings because he had been married before and his wife couldn't handle the stresses of his job. Because Aly had been raised in the military she had no doubts about being able to deal with it. I loved Josh's solution for what Aly could do once they were rescued and he went back on deployment. It continued to show the amazing sensitivity he had for Aly's needs. I also loved seeing the changes that Aly went through as Josh's love gave her a new kind of confidence.
The epilogue was fantastic. It was fun to see the camaraderie among all the guys with the way they tease. The depth of Josh's love for Aly was also apparent as was hers for him. I also liked catching up on her relationship with her father, as that had been such an important part of the story.
Amazon Gold by Merline Lovelace
U.S. Navy Chief Charlene "Charley" Dawson deftly commands the Riverine patrol boat taking an arrogant U.S. Delta Force Army Sergeant on a very personal op. As she and Jack Halliday penetrate deeper into the Amazon after a rogue ex-pat, they face danger…and unexpected attraction.
Also short, but nearly as action packed as the first one. Charley is the commander of the boat that is taking Jack and his team to find a rogue Delta Force soldier. As a woman, she has faced a lot prejudice against her, including from her ex-husband. He made a bunch of false accusations about how she performed her job, and continues to spout off to anyone he meets. Jack had encountered him just before this mission and is withholding judgment on Charley until he can see for himself.
Charley and Jack are attracted to each other immediately in spite of the danger of their mission. Charley is cautious because she's been burned once. Jack is distrustful of most women because of the actions of his mother when he was a child. I liked that Charley confronted Jack about his attitude early and that they were able to move on from there.
The details of their mission were exciting to read. The descriptions of the environment really brought it to life for me and made me feel like I was there. I was on the edge of my seat as they reached each of the sites, especially the third one. I could feel Jack's conflict as he faced McMasters. Things got even more interesting toward the end of the book. I was really impressed by Charley's presence of mind during the final confrontation.
I loved the ending and the way it showed the love Jack and Charley had for each other. With the careers they both have, it takes a lot of work to have a successful relationship. I loved the bit with the other Sidewinders and how it continues to show the depth of the friendship they have.