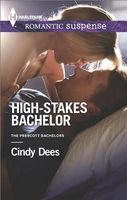 Series:
Prescott Bachelors
(Book 1)
Wannabe stuntwoman Ana Izzolo can't believe she's landed a starring role in actor-producer Jackson Prescott's new film. A plain-Jane nobody and a megastar? Their on-screen chemistry is electric, burning up the celluloid…but offscreen, Ana is stalked by danger.
Like a true Hollywood hero, Jackson whisks her to his oceanfront mansion, practicing love scenes while keeping her safe. But when their real-life relationship starts mirroring the movie's leading couple, the confirmed bachelor fears he may fall for the doe-eyed ingenue. If the stalker doesn't get her first…
Wow. Fantastic book. The suspense of wondering who was after Ana was great, and the heat between Ana and Jackson was explosive. Ana has spent two years learning various forms of martial arts, a result of nearly being murdered by a psycho date. Now she wants to use that knowledge to get into stunt work in the movies. When she goes for an audition for Jackson's new movie their chemistry has them signing her to star instead.
When Ana is attacked in the parking lot of her hotel and her room is ransacked while she's at the hospital, Jackson takes her to his home, where he can keep an eye on her. He doesn't expect the white-hot attraction to be just as strong off the set, and it scares him to death.
I loved seeing Ana and Jackson together. Ana has her issues because of the attack she suffered. She doesn't let men get close to her anymore, and she doesn't date because she has a hard time trusting that she won't be attacked again. She finds that Jackson is the only man she feels safe with, but tries to resist falling for him because she knows that he isn't interested in a long term relationship. Jackson has issues that are just as serious. His mother was a woman whose Hollywood lifestyle killed her, then he was badly burned by a woman he was engaged to. He has a bad habit of getting hot and bothered with Ana and then pulling back and running the other way, spooked by the intensity of what he's feeling.
Added to those feelings are the scenes that they film for the movie. Those encounters are so hot that the film (and the pages) nearly burst into flame. Every single time they start with the script and action planned out it goes up in flames as soon as they touch. I loved seeing the reactions of the people around them.
Ana and Jackson's lives and relationship are complicated by his grandmother, who lives with him. She is determined that he marry soon and make her a great-grandmother, and Ana's presence just provides her with more scope for her antics. She is hilarious with all her plans and machinations. The bit with the minivan had me laughing out loud, even as Jackson was spitting nails. Another complication rears its head and sends Jackson into an even greater tailspin. He's running as fast as he can, but he can't outrun the way she makes him feel. I loved the strength of will that Ana showed, in being able to look at Jackson and tell him what an idiot he was being. She also let him know that she deserved more than he was willing to give. There were times I wasn't sure what it was going to take for Jackson to get his head out of his butt and realize the truth. He did end up coming through in a big way.
The suspense of the stalker was really good. The attacks were both on and off set. Sometimes I felt sure it was related to the movie and sometimes I thought it had to be personal. The final confrontation was intense, and the identity of the stalker came as a surprise to me.