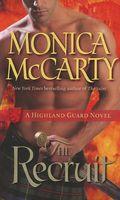 Series:
Highland Guard
(Book 6)
Scotland's King Robert the Bruce is retaking his kingdom from the invading English. To win, he'll need all the grit and courage of his elite band of warriors, the Highland Guard, men who fight without fear and love without limits.
Fiery, aggressive, and bold, Kenneth Sutherland is a true champion -- skilled with any weapon and driven to win. Now Kenneth is ready for his greatest challenge: joining Robert the Bruce's secret army to fight among the elite. Kenneth's best chance to attain that honor is by winning the Highland Games. Focused and prepared for victory, he is caught off guard by a lovely wisp of a woman -- and a stolen moment of wicked seduction. Her innocent arousal and her shameless hunger fire his blood. He will win his place in the guard -- and in Mary of Mar's bed.
The ruggedly handsome hero-in-the-making stirs a heart that should know better. Mary vows that her surrender will be sport only -- no promises, no heartbreak, just one night of incredible passion. Nothing, she swears, will persuade her to give up her hard-wrought independence and put her fate in the hands of another powerful man. But with every gentle touch and heart-pounding kiss, Kenneth makes her want more. Now Mary wants his heart. But is this determined champion willing to surrender everything for love?
Good book. This is the first of this series I have read, and though reading the others would help with information about the other characters, it's not necessary. I really enjoyed the setting of the book as I haven't read many from this time period. The characters were well done and I liked learning more of this time in Scotland's history.
Mary has had a rough life so far and she's only twenty-six years old. She was married at fourteen to a man older than she was. She idolized him, as a warrior and a hero. But he was a terrible husband. He never stopped seeing her as his child bride, even as she got older. She tries everything she can think of to get him to fall in love with her. Her love for him is destroyed when she discovers that he's far more interested in other women than in her. Then he changes sides in the war, causing the king to take her infant son from her, and eventually ends up hanged for treason. Her sister comes to England to try to take her back to Scotland, with disastrous results, and Mary is stuck in England. She is determined to survive, and also that she will not marry again and put herself in the same position. She is also finally in the same place as her son, who is a squire, and getting to know him again. Then she is sent to Scotland with a delegation working on a truce, and asked to spy on the Bruce who was her brother-in-law. There she meets Kenneth Sutherland, who really shakes up her life. She discovers that he's being put forward as a husband for her. She's not interested, she finds him far too much like her late husband to want him for a husband.
Kenneth is a second son who is tired of coming in second to everyone and everything. He is determined to earn a place in the Highland Guard. He has an excellent chance at it, if he can just keep his temper and his attention on what he's doing. A chance encounter with Mary is a distraction he doesn't need, but he's determined to get her where he wants her. When he succeeds in his seduction, it leaves a greater impression than he expected, and a distraction at just the wrong time. He ends up losing the competition that would secure his place in the Guard. Not only that, he discovers that Mary isn't just some maid, she's the woman that the Bruce wants him to marry. He's not wild about the idea of being married at all.
From there, Kenneth and Mary part ways, never expecting to see each other again. Kenneth gets a second chance at the Guard, undergoing rigorous training, but not able to forget Mary. Meanwhile, she returns to England, with a secret she's not sure what she's going to do about, also unable to forget that incredible encounter with Kenneth. But Fate isn't done with them yet, and Kenneth's first mission for the Guard has him right back in Mary's life.
This is where it gets really interesting. The attraction between Mary and Kenneth is just as hot as ever. When Kenneth discovers the secret she's been keeping, he is determined to marry her. He's got a big secret of his own that he's keeping from her, and as time goes on it begins to weigh on him. He looks at their marriage as a way for him to gain her love and therefore make her willing to do what he needs her to do. He's not used to having to work for a woman's attentions and it was rather sweet to see the lengths that he went to in order to win her. But Mary still has the same trust issues regarding Kenneth's ability to be faithful and to protect her. As the weeks go on, they get closer. Mary tentatively starts to believe in Kenneth and finds that she has lost her heart in spite of all her efforts. Kenneth was only supposed to concentrate on his mission, not get sucked into marriage and love. His overprotectiveness and jealousy get him into some trouble both with Mary and with his team.
There was so much intrigue and secret keeping that I kept wondering what was going to happen next. The initial interactions between Kenneth and Mary, which only seemed to reinforce Mary's opinion of him, were hot enough to scorch the pages, but didn't look promising for a happy outcome. I thoroughly enjoyed seeing the training that Kenneth went through and the grief that he got from the Guard members went a long way toward increasing his maturity. When he was in England he had to call on that maturity to stay on task, not an easy thing for him to do, especially as things really started to heat up. Mary also had some growing up to do, as she began to realize that maybe there was more to Kenneth than she had previously believed. She had to face her growing feelings for Kenneth and decide if she was going to trust him or not. And then there were the things that Kenneth was trying to discover for the Bruce while maintaining his cover. This became more difficult with his marriage, because he made an enemy of one of Mary's suitors. The final showdown was heartpounding in its intensity, and the happy ending for Mary and Kenneth perfect for them.