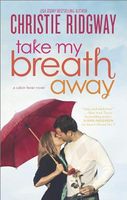 Series:
Cabin Fever
(Book 1)
Poppy Walker has a plan to restore the family resort, and she's sticking to it. So when a good-looking guy with plenty of cash rents one of her half-repaired vacation cabins, she figures he's just what the handyman ordered. But when a storm blows through, it takes down some trees, her roof and then…her self-control. Even though she's been burned before by a wealthy passer-through, she can't stay away from the brooding but gorgeous stranger in the bungalow next door.
Former teen idol turned Hollywood exec Ryan Hamilton wants a private place in which to endure his very personal heartbreak. Finally, at this rustic mountain cabin, he has all the seclusion one man could want -- until sparks begin to fly with his sexy, formerly chilly landlady. By the time the weather dies down, they're both hot, bothered and certain they're still wrong for each other. But there's no telling how they'll face the new storm brewing on the horizon….
Very good beginning to a new series. Poppy is a single mother with great plans to renovate the cabins at her family's resort as a way to bring in cash for the family. When Ryan offers extra cash to rent one of the cabins now, she takes him up on it. Ryan is there, running from his memories, but Poppy turns out to be quite a distraction. When a storm traps them together the sparks fly between them.
Poppy grew up in Blue Arrow Lake and is quite familiar with the way the wealthy visitors behave. She was burned several years earlier by a guy who bailed on her when she got pregnant. So she isn't going to let herself fall for Ryan. She's got her hands full raising her son and working on the cabins, Thanks to the storm that traps them together, she finds it harder to stay away from him.
Ryan was a child star who has left acting behind for the production side of the business. For eleven months of the year his life is fine, but March is always bad. In trying to escape from tragic memories, he seems to end up in some kind of trouble each March. He's come to Blue Arrow Lake to find a place to hide out and try to avoid the paparazzi who follow him around. Landing in one of Poppy's cabins is great because she has no idea who he is. The downside is the very inconvenient attraction he has to her.
Poppy is independent to a fault, refusing to ask for help from anyone, but she is also cheerful and optimistic most of the time. In spite of his wealth and fame, Ryan is basically a nice guy. But he is in so much pain from his personal tragedy that he hasn't been able to move on with his life. When a steamy kiss is caught on camera by the paparazzi, Ryan whisks Poppy and her son off to his home by the lake to protect them. It's there that the connection between them becomes more obvious. Poppy sees that Ryan is in pain, and even though it takes a long time before he tells her the cause, she tries to be there for him. Ryan's pain is made stronger with the presence of Poppy's son Mason in the house, because it reminds him of what he has lost. He tries desperately to keep his distance, but finds both Poppy ad Mason creeping into the heart he thought was frozen. Though their physical attraction took off quickly, a deeper relationship was slower to form. I really liked the way that Ryan was so sensitive to Poppy's emotions and could tell when something was bothering her. Even though he refused to believe he could love again, he couldn't help but want to help her. I also loved the way that even though being around Mason brought back painful memories, he didn't take it out on Mason. There were some really wonderful moments between them that gave Poppy hope that there could be something more between she and Ryan. I loved seeing them grow closer, even as both resisted thinking about a future together. There were definitely some trying times before they were both able to overcome their insecurities and look for that future together.
Poppy's son Mason was really adorable. I loved the way he followed Ryan around and how Ryan never pushed him away. The fun they had with the spy maps was great, and I had a feeling they were going to be important. I loved what happened at the end, and how Mason was such a big part of Ryan's healing.
I also enjoyed the secondary romance with Linus and Charlie. She hadn't expected to see him again after their time together the year before, and his reappearance really messed with the way she deals with her summer flings. I really liked his patience in getting her to keep seeing him. It was pretty sweet the way he was the first to realize his feelings for her. Then he had to convince her that there could be more for them both.
There's also a lot going on with family relationships. Poppy is having trouble convincing her brother and sisters that fixing up the cabins is the right thing to do. But even with their disagreements, they are there for her when they think she's in trouble. Linus is Ryan's brother and is worried about him because of Ryan's actions. I loved the way that he came to watch over him, even though Ryan didn't want him there. I'm looking forward to seeing more of these folks in the next book.