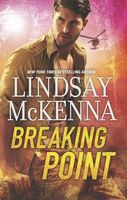 Series:
Shadow Warriors
(Book 5)
OPERATION SHADOW WARRIORS
An ongoing U.S. military experiment to test the integration of trained female military operatives in live combat scenarios…
The Alpha Platoon. A unit of Navy SEALs stationed in the unforgiving dryness of Afghanistan…who just learned that their newest team member is a woman. But Bay Thorn has a spine of steel -- and the chops to prove it. Without a team to back her up, however, she's dead in the water. And her only ally is Gabe Griffin, a lone SEAL who is lethal, dangerous and unbearably attractive….
Between the open hostility from her team and the harsh Al Qaeda territory, Gabe is a lifeline for Bay. But mutual respect quickly grows into mutual attraction. And with each day and every assignment, the longing only deepens.
They mustn't speak of it. Mustn't act on it. Because in this line of work, falling in love can get you killed….
Loved it. Another terrific entry into the series about women moving into combat roles. Bay has been part of the Shadow Warriors for several years. She is a highly trained combat medic and has previously served with another special forces unit. Now she's been assigned to a platoon of SEALs and she has to prove herself all over again. Bay's introduction to the team is pretty rough. There are several of the guys who are outright hostile, but one of them speaks up for her. He's assigned as her mentor, to show her the way they do things.
I really enjoyed Bay's introduction and first few days with the team. She knew she'd be facing opposition and tried not to let it get her down. She was confident in her abilities, as long as they would give her a chance. It was fun to see the way that she demonstrated those abilities. I really loved the shooting competition and the way that Gabe showed such confidence in her. I liked the way that bits of her background were shown and how they had such a big part in what she could do.
Gabe's support means a lot to her. She has a great deal of respect and admiration for his abilities and knowing that he has confidence in her helps keep her going. What she doesn't expect to happen is the attraction she feels for him. Bay was engaged to another medic, who died in action in Iraq. She swore she wouldn't get involved with another military man, but her heart wasn't listening to her head.
Gabe had been impressed with Bay from the minute he met her. She had a strength of will he didn't see often in men, much less in women. He's assigned as her mentor/partner and it doesn't take him long to realize that she will be an asset to the team, once the other guys see that she can hold her own. Besides her military skills he is also drawn to the softer side of her. Seeing her use her medical skills on the locals emphasizes her nurturing personality and Gabe finds his attraction to her growing. Gabe had been married before to a woman who couldn't handle his job, and being around Bay shows him what he could have with a woman like her. Both of them know that a relationship between them is impossible under the current conditions. They work very hard at keeping their emotions in check, and are mostly successful.
I liked the way that their relationship developed slowly, with them getting to know each other without physical intimacy getting in the way. It also showed the respect that they had for each other. I enjoyed seeing them get together at the end, and especially liked Gabe's sensitivity to Bay's need to adjust to noncombat conditions. It helped that he goes through the same things himself. I really liked the realistic look at what their next year would be like, with him doing training and her deploying again.
There were a few things I didn't like as much about this book. I really expected there to be more of a struggle for Bay with becoming part of the team. There wasn't much interaction between her and the other guys, except for the cookie incident. That really made it seem like she ended all the hostility with a few cookies and I would have liked to see more. I loved Bay's strength of will and abilities, but I don't recall her ever showing any truly negative emotions. No gripes about the sand, frustration over the guys' attitudes, not even over not being able to haul off and kiss Gabe now and then. Nobody can be that upbeat all the time, especially under those conditions. And for some reason, even the two major missions didn't seem as intense as they've been in previous books. These things weren't major drawbacks, but they weren't quite what I usually expect. Won't stop me from reading the next one.