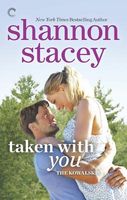 Series:
Kowalski
(Book 8)
Hailey Genest has seen most of her friends marry and have babies, and she's happy for them, but it was a lot easier before she hit forty. She's spent her entire life in Whitford, Maine, and if she hasn't found her Prince Charming by now, she has to accept she's probably not going to. When a new friend suggests they go on an adventure and embrace being single, Hailey agrees.
Surviving in the woods is game warden Matt Barnett's idea of a relaxing vacation. But when he meets two women in need of help, he leads them back to safety -- a task that proves more fun than expected, thanks to a certain hot blonde. He can't resist pushing her buttons, even though she's made it clear that the rugged, outdoorsy type just isn't for her.
Hailey is glad to see the back of her tempting-tour-guide-slash-pain-in-the-ass. When he shows up in her life again, she's determined to avoid him, no matter how good he looks in his uniform. But that's easier said than done in Whitford, especially when he's renting the house right next door….
I've been looking forward to reading Hailey's story and this was definitely worth the wait. Hailey is the town librarian, just turned forty, and is beginning to feel like life is passing her by. When her friend Tori suggests that they try an outdoor adventure, she agrees, even though the great outdoors is definitely not her thing. They end up getting separated from their group and rescued by game warden Matt Barnett, who had been on vacation nearby. Hailey isn't impressed by the hairy, smelly mountain man who seems to be laughing at her, but she doesn't expect to see him again.
She is surprised to find a cleaned up and extremely hot Matt has been assigned as the new game warden for Whitford. Not only that, he is also her new next door neighbor. But in spite of their chemistry, she figures there are just too many differences between them for a successful relationship. She is a girly-girl who has a nice neat house, is looking for a man with regular hours who has fairly refined tastes. Matt is a rugged, outdoorsy guy with a dog named Bear, whose idea of a good time is camping, fishing and hiking. He's not interested in a relationship with a woman who looks down on who he is. He'd been through one of those already and it affects everything he does with Hailey.
The chemistry between them is really strong and pretty soon they decide to just go with enjoying each others company, knowing that neither has expectations of forever. They were honest with each other about their expectations, which gave them the freedom to just be together. I loved seeing them get to know each other, and how even though they are different those differences complement each other. I loved seeing Matt get Hailey to do things outdoors with him, and how she actually enjoyed some of it. It made it that much more frustrating when he was such a complete jerk when she tried to get him to do something she wanted to do. I thought that Hailey did a much better job at being openminded about what life with Matt would be like. When Matt was such an idiot my heart just broke for Hailey because she had been doing everything right. I loved the scene up at the cabin when Matt's dad was pointing out the error of his ways: "You know I love you, right? But you're an idiot." Matt really did come through in the best way at the end, redeeming himself in a spectacular way.
One of the things I loved about Hailey was her love for her job as a librarian. I could see her joy in her work with every scene that took place there. I also loved seeing how her love of reading blended in with her time with Matt. I also really enjoyed seeing how hard she worked to keep her relationship with Matt out of the gossip crosshairs, but how the people of Whitford saw the truth anyway.