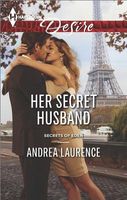 Series:
Secrets of Eden
(Book 4)
Love, honor -- and vow to keep the marriage a secret!
Years ago, Heath Langston eloped with Julianne Eden. Their parents wouldn't have approved. So when the marriage remained unconsummated, they went their separate ways without telling anyone what they'd done.
Now family turmoil forces Heath and Julianne back into the same town -- into the same house. Heath has had enough of living a lie. It's time for Julianne to give him the divorce she's avoided for so long -- or to fulfill the promise in her smoldering glances and finally become his wife in more than name only.
This was a very emotional conclusion to the Secrets of Eden series. In it, everyone has been trying to protect everyone else. Sixteen years earlier one of the transient foster boys had ended up dead. The three permanent foster boys and daughter Julianne had hidden the body and vowed never to speak of it. Then, in the first book of the series, the body turned up and the investigation was on to discover what happened, putting stress on all the members of the family.
In this book we have Heath and Julianne, the youngest of the foster sons and the daughter of the house. They had always been close while growing up, but not like siblings. Right after high school they had eloped, but Julianne had gotten cold feet before they consummated the marriage. She and Heath went their separate ways, never telling anyone what they had done, but never ending the marriage either.
When her dad's heart attack brings both Heath and Julianne back to the farm to help run it during Ken's recovery, Heath decides it is past time to deal with the issue. He gives Julianne an ultimatum - either give him a divorce or follow through on their marriage.
I felt so bad for Heath. He had been so in love with Julianne and marrying her was a dream come true. Her rejection on their wedding night was devastating to him, breaking his heart. He was never able to get a straight answer from her about why. Even now, he swears he doesn't love her anymore, but the attraction is as strong as ever. They give in to the attraction, but Heath can still see that she's hiding something. He still has hope that she will open up to him and they can move on, either together or apart. Though the more they are together, the more Heath wants it to work out between them.
Julianne has loved Heath since she was nine years old. But she's holding on to a sixteen year old secret that ties into the family secret. That's what made her reject Heath that night eleven years earlier, but she's never been able to talk about what happened. She has kept her secret as a way to protect everyone else, even at the cost of her own happiness. She loves Heath, but she's afraid that telling him what happened would make him look at her differently. She's also afraid that he will blame himself and she couldn't stand for that to happen.
The love they have for each other is obvious and heartbreaking, because you just don't know how they're going to overcome the problems. Their trip to Paris was beautiful and I had such high hopes for it. But it's the visit from the sheriff after they return home that brings everything out. There were a lot of things that came out that had o be dealt with, but all ended in a most satisfying way. The epilogue wrapped things up nicely.