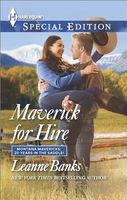 Series:
Montana Mavericks: 20 Years in the Saddle
(Book 3)
A MAVERICK MAKEOVER
RUST CREEK RAMBLINGS
Nick Pritchett, that hunky blond carpenter from Thunder Canyon, has been doing his share to put the town back together after the Great Flood. He's great with a hammer and popular with the ladies. Maybe a bit too popular, if you ask his best bud, Cecelia Clifton!
Cecelia's come to town looking for L.O.V.E., but according to Nick, she's been going about it all wrong. He's convinced he can help Cecelia meet her match if she follows his instructions to a T. Trouble is, the only man he finds good enough for his childhood pal is…himself! Dear reader, I always knew romance was brewing underneath their outward bickering. The question is, can Nick convince sexy Cecelia 2.0 that he's the best man for her?
Terrific friends to lovers story. Nick came to Rust Creek Falls to help rebuild after the Flood and Cecelia came not long after. They grew up together in Thunder Canyon and have been friends for a long time. Another reason that Cecelia came to Rust Creek was in hopes of finding love, after ending a relationship back home. She's not having much luck here either and is about ready to give up and go home, until Nick offers to help her find a match.
I really enjoyed the relationship between Nick and Cecelia. They've been friends for so long and they know each other very well. Nick likes having his friend around and isn't happy with the idea that she is thinking about leaving. He figures that if he can find her a local man then she won't go anywhere. Since he's a man who really likes the ladies he thinks he has a good chance of teaching her what it takes to get a man's attention. Cecelia doesn't think she should have to change who she is to do so, but she's willing to give it a try.
What neither expects is to suddenly start seeing the other one in a whole new way. Cecelia has always known that Nick is a sexy guy, but she's starting to notice it more in relation to the way she feels about him. She's not happy about it because she doesn't want it to ruin their friendship. She also knows that he is about as anti-commitment as a guy can get. I loved seeing her give herself a stern talking to every time her mind started to stray that way. I also liked the fact that she has a non-traditional kind of job. Her work in construction has made her comfortable around men in an everyday way, but she's still a bit uncomfortable in social situations. Her fallback to playing darts with them sets up some interesting dynamics. She gets frustrated with herself when none of her dates seem to measure up to Nick.
Nick starts out helping Cecelia for purely selfish reasons. He doesn't want her to leave town because he would miss her too much. She is the only woman that he can really be himself with. As a carpenter and handyman he has a lot of business come his way and a lot of it is from women who want more than just his carpentry skills. He likes playing the field because he has no intention of giving his heart to anyone. He saw how his dad fell apart after his mother died and he wants no chance of suffering that kind of pain and loss for himself. So when he offers to help Cecelia, noticing her as a woman was not part of his plan. I loved seeing him start second guessing himself when he'd set her up with a guy, and try to talk her out of it. He gets more and more jealous, especially when she starts to get some dates on her own, but he refuses to admit it to himself.
I loved the secondary story of Will and Beth and how their romance made both Nick and Cecelia look at their own relationship. I was happy to see that Cecelia finally realized that she deserved more than what she was getting and took the action she felt she needed. Nick needed a bit more of a smack upside the head, but he finally got it. I loved the ending - it was a wonderfully romantic touch. As an aside, I really liked having Nick be a blond hero. So many are the typical "tall, dark and handsome" that his being blond makes him stand out just a bit more.