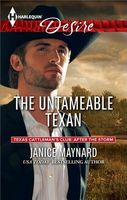 Series:
Texas Cattleman's Club: After the Storm
(Book .5)
Texas financier Jed Farrell always gets what he wants -- except when it comes to the one who got away, Kimberly Fanning. Now he's here to settle old scores with his high school sweetheart at their ten-year reunion. But when they end up back between the sheets, the man with a plan soon gets an unplanned baby surprise. Will old doubts and differences scuttle their second shot at a future together? The time for answers is running out as a storm literally brews on the horizon….
Very short prequel to the newest Texas Cattleman's Club series. Jed has come back to Royal for his high school reunion for one reason. He wants to see Kim again and finally find out why she broke things off with him after he left for college. He has realized that he's never forgotten her and feels that he will never have a successful relationship until he deals with his past.
Kim is surprised to see Jed at the reunion, and not very happy when he makes it clear that they will talk before he leaves. She had loved him very much, but felt that the differences between them were too great for them to have a future together. He was wealthy and had a great future ahead of him. She was poor and the only one of her family left to take care of her ailing grandmother. She was afraid he would throw it all away to stay with her, so she broke things off.
A couple dances together and they discovered that the old attraction was still there. Those dances led to a smoking hot night together, but she left in the morning before Jed woke up. Thanks to crises at work, it was six long weeks before Jed could get back to Royal and talk to Kim. All he had been able to think of was her, and he wanted a chance to convince her that they could have it all.
Kim had run because she was scared by the intensity of the feelings she still had for Jed. She still couldn't see a future for them because she was still hung up on their differences. But she turns up pregnant, and Jed is right there, insisting on taking care of her. He wants more than just to share parenting duties, and Kim has to decide if she wants to take a chance on the future she's dreamed of.
Just as they declare their feelings for each other, the sirens go off. In the distance is a monster tornado, heading straight for Royal. They know that things are going to change far more than they had expected.
I loved Jed's determination to show Kim how much he cared. The scenes in the doctor's office were sweet, as was his care for her when she passed out on him. I really wanted Kim to have more confidence in herself and their feelings, and fortunately it did come through in the end. For such a short story I thought it did well at developing the characters and setting up for the series.