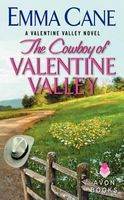 Series:
Valentine Valley
(Book 3)
Ever since a heated late-night kiss -- that absolutely should not have happened -- cowboy Josh Thalberg makes former Hollywood bad girl Whitney Winslow's pulse beat faster. But when she decides to use his gorgeous leatherwork in her new upscale lingerie shop, Leather & Lace, she's determined to keep their relationship strictly professional . . . even if she wants so much more.
Josh has never met a challenge he isn't up for. Which is probably why he allowed Whitney to persuade him to take the sexy publicity photo that went viral -- and now has every woman in America knocking down his door . . . every woman except the one he can't get out of his head.
But how to convince a reformed bad girl that some rules are worth breaking?
Very good story of opposites attracting. Whitney is a city girl who has overcome the objections of some of the townspeople to open her shop Leather and Lace. She is focused on getting the new store up and running, and trying not to be distracted by cowboy artist Josh. Josh has spent most of his life in Valentine Valley. He has his work on the family ranch and his leatherwork business to keep him busy.
Whitney comes from a wealthy family that is not very close. After being told by her father that there is no place for her in the family business because she is a woman, she starts her own business of high end lingerie. When she decides to open a store in Valentine Valley she meets with some opposition (see
True Love at Silver Creek Ranch
) but overcomes most of it with the help of some local ladies. Eight months later she's back in town to move ahead with her plans. One of those includes getting Josh Thalberg to make some things for her shop. A steamy kiss she had shared with him has been on her mind ever since, but she doesn't want to mess up their business relationship.
Josh's family has been in the valley for generations. Working the family ranch is a big part of who he is, as is the leatherwork he makes and sells. The kiss that he shared with Whitney has been on his mind a lot. Now that she's back in town, that heat is only growing.
Thanks to their business together, Whitney and Josh spend a lot of time together. Whitney starts out wanting to keep it strictly business, but Josh wants to get more personal. He's very busy with the ranch and his business, but he still finds time to relax and have fun. He is determined to show Whitney that she can do the same thing. I loved seeing him draw her into so many activities, from riding to spending time with his family. I really enjoyed the way that he understood her and used that understanding to make her life better. His feelings for her grew stronger, but he wasn't sure that she would be happy with such a different life than what she'd been used to.
Whitney discovers that she really likes the pace of life in Valentine Valley. Her growing relationship with Josh is a large part if that. She's used to her relationships being much more casual and the one with Josh is far different. While she's ready to step things up a notch, she discovers that Josh is moving much more slowly. She's both frustrated and intrigued. I loved watching her get so much more involved than she's accustomed to. She was especially drawn to Josh's relationship with his family, which is so different than her own family dynamics. It was great to see how welcoming they were to her, especially as she and Josh grew closer. I also loved seeing her become part of the Valentine Valley community. It was heartwarming to see her develop friendships with the other women, something she'd never really had before. The community feeling plays a big part in the decisions she makes later.
While helping Josh negotiate a contract for some of his leather goods, she talked him into having some publicity pictures taken (he agreed only if she would go on a date with him). The pictures turned out to be really hot and went viral, creating a bit of a frenzy around him. I loved seeing him try to cope with the fame. The teasing he got from his friends and family was good natured and he took it all really well. The fun really started when it all hit social media, and the surprise came when it was finally revealed who was behind it.
There are some complications that arise when Whitney's family comes to visit. I really enjoyed seeing her confidence in herself that comes out during that visit. They bring an offer that Whitney would have loved a few years ago but only creates conflict within her now. I loved the family dinner that the Thalbergs invited the Winslows to. The following events create some battles that Josh and Whitney have to face, both separately and together, before they can reach their happy ever after.