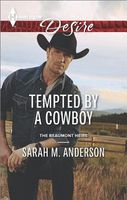 Series:
Beaumont Heirs
(Book 2)
How can she resist the cowboy's smile when it promises so much pleasure?
Phillip Beaumont likes his drinks strong and his women easy. So why is he flirting with his new horse trainer, Jo Spears, who challenges him at every turn? Phillip wants nothing but the chase…until the look in Jo's haunted hazel eyes makes him yearn for more….
Sure, Jo's boss is as jaded and stubborn as Sun, the multimillion-dollar stallion she was hired to train. But it isn't long before she starts spending days and nights with the sexy cowboy. Maybe Sun isn't the only male on the Beaumont ranch worth saving!
Good book. In the first book,
Not the Boss's Baby
, Phillip came across as a totally irresponsible playboy who had just spent seven million dollars for a horse. In this one, we see a different, more responsible side of him, though one with demons to overcome. Phillip's job with the company is to attend events that are serving Beaumont Brewery products. He tends to get too involved in the events, drinking too much and making a spectacle of himself with women, but he justifies it by claiming it's part of the job.
Jo has been hired as a horse trainer to work with Phillip's new horse. She has been concentrating on her job for the last ten years, having sworn off men entirely after a life changing event. She had accepted the job after reading about Beaumont Farms and wanting a high end client like that for her resume. She had been impressed by the interview with Phillip that she had read, but not by other things she had read about him. Jo is very protective of her reputation as a trainer and is careful not to get involved with the men at her jobs.
There are sparks between Jo and Phillip from the moment they meet, though that meeting and the one the next day have their amusing moments. Jo is determined to resist Phillip's attempts to charm her, and Phillip is equally determined to succeed in his chase. But a funny thing happens on the way to saving a horse. Jo saw a lot of herself, before she turned her life around, in Phillip and his life as it is now. When a visit from Chadwick, threatening Phillip with the loss of the ranch, sends him into a tailspin, Jo opens up to him about what had happened to her. Spending time with Jo while she works with his horse has Phillip yearning for more from her. After the visit from Chadwick, which threatens everything that makes Phillip feel like his life as some meaning, Jo's revelations are eye opening for him. Suddenly Phillip has a desire to make changes in his life that would make him feel more worthy of being with her.
I loved the way that Jo had taken control of her life after she hit bottom. She has seen the value of her new life and refuses to do anything that would drag her back down. This includes getting involved with someone who is living the lifestyle she has escaped. The more we see of Phillip, the more we learn of why he lives the way he does. I loved his determination to make the changes and was rooting for it to go well for him. I appreciated the realism that showed how hard he found it to be. I liked seeing Jo make her stand on their relationship and stick to it.
The ending was both heartbreaking and uplifting as we see Phillip's struggle and fall and have to face the consequences. Jo's own unhappiness sends her home to heal. The ending of this story, with Phillip having faced down his demons was gratifying. I also loved seeing how he proved himself to Chadwick and solved the issue of Beaumont Farms.