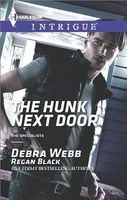 Series:
Specialists: Heroes Next Door
(Book 1)
In the season of hope, someone's out for blood. Police Chief Abigail Jensen is determined to protect her town -- and avoid falling too hard for Riley, the new guy next door. But deciding who to trust can be deadly, especially when he has deep secrets….
Agent Riley O'Brien's mission is clear when he joins the CIA's covert Specialist task force: protect a small-town cop from a terrorist, no matter what. Trading his identity for the undercover guise of a handyman is part of the plan…getting close to Abigail on a personal -- and passionate -- level isn't.
Very good book with action and suspense from the very beginning. Abby is a police chief who spearheaded the capture of a drug shipment that was being used to finance a cell of terrorists. After making a public statement that she wouldn't put up with that kind of trouble in her town it comes to the attention of people high up that she's stirred up a hornet's nest. One of those people is the head of the CIA's Specialists group, who assigns Riley to go undercover to protect Abby and the town.
Riley is the first of the operatives to be assigned to a new type of mission. These are long term assignments with no known end date. He goes into this assignment knowing that he will be in Belclare for a very long time. He has a hard time getting close to Abby at the beginning because of all the work she's doing. Once he moves into the house next door it gets a bit easier. He doesn't expect the attraction that he feels for her.
Abby is fighting for the safety of her town. She has to worry about the threats she has been receiving from an unknown source, and also about what may happen during the town's Christmas festival. There are members of the town who are fighting against the safety measures she's trying to implement and others who blame her for all the trouble. One of the construction people who is working on the festival preparations seems to be constantly underfoot and she isn't sure whether she can trust him. She's also attracted to him, and she worries that it is distracting her from what she should be doing.
The suspense is constant from the very beginning. We know who the bad guy is from the start, as some of the story is told from his viewpoint. Even if it hadn't been revealed I would have suspected him, as I just found him kind of creepy and smarmy. The intensity of the attacks on the town and on Abby's peace of mind keeps escalating. I loved seeing how Riley worked to be there when Abby needed him. As the days went on Riley had to figure out how to protect Abby without giving away who he really was. In spite of the secrets, Riley and Abby made a great team. There are two confrontations at the end that are quite intense, and though I knew they would turn out the right way the suspense of how it was going to happen kept me riveted to the pages.
I loved Abby's strength of will when it came to doing her job. She wasn't going to just roll over and let the bad guys win. She has a good brain and the ability to figure things out. She starts out suspicious of Riley, but quickly comes to trust him, even though she doesn't understand why she does. She wavers a bit toward the end, but the trust does win out. I also loved Riley. He had grown up as an orphan but made a place for himself in the Specialist family. When he takes this mission, he finds that he likes the small town life and the sense of family that is there. He's surprised by the intensity of his growing feelings for Abby and feels badly about not being able to tell her the truth. I really liked seeing Abby realize that it was okay to lean on Riley for help and support, that she didn't have to do it all by herself. And I loved seeing Riley get a chance at the love and family he'd never had before.