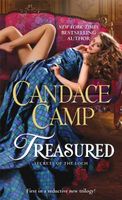 Series:
Secrets of the Loch
(Book 1)
A family legend of hidden treasure mingles with the mist over the shores of Loch Baille...
But it's not the cache of gold dating back to Culloden that Jack Kensington claims when he arrives in the Highlands; it's the house he won in a London card game from a luckless Scotsman. Stunned to learn that her wastrel brother wagered their family estate, Isobel Rose must find a way to save her home and the people she loves...even if it means accepting a loveless marriage. Or perhaps not so loveless? Isobel unlocks the secrets of desire in the arms of the mysterious and handsome Englishman, but a series of "accidents" makes her fear that she will soon be a widow instead of a wife. As their hunt for lost riches turns into the search for a killer, Isobel fights her attraction to the man who stole her birthright...but can Jack convince Isobel that he can provide a home for her heart, and a love to treasure?
Good book. Jack came to Kinclannoch to check on some property he won in a card game. He plans to sell it as soon as he can and take the money back to London with him. He is surprised to find the precious owner's sister and aunt in residence, but not nearly as surprised as Isobel is to discover that she is soon to be homeless. She is determined to find a way to keep her home and protect the people who live on the land.
I really liked both Jack and Isobel. Jack did not come in throwing his weight around. When he discovered that Isobel and her aunt he was willing to give them all the time they needed to make plans. I thought he also dealt very well with the attitudes of the people, who were trying to watch out for Isobel. He was empathetic to what they were doing. He also discovers that he is quite attracted to her, but is gentleman enough to not seduce her. Isobel is the one who has been managing the estate while her brother gambles away his time in London. She fears what will happen to everyone if Jack sells the property. She makes several suggestions to him but the one that they end up going with is when she proposes a marriage of convenience to him. She will remain in Scotland running the estate, while he can return to London with the guarantee of the income from the property.
Isobel intends it to be a paper marriage, but Jack has other ideas. The time he has already spent with Isobel shows him a feisty, intelligent and passionate woman that he would like to get closer to, He knows what she intends, but lets her know that he has every intention of changing her mind. Isobel really tries to resist, but the attraction she feels for him won't be denied. Jack soon finds himself thinking less about returning to London and more about making a new life for himself with Isobel.
The relationship between them grows slowly. Jack is a gambler with an unpleasant past that he has tried to overcome. It still leaves him feeling unworthy of Isobel, even though she never purposely puts him down. I really liked how her influence has him looking at the land and people in a different way, and opens him up to the idea of love. Isobel is reluctant at first to trust her heart to Jack. She expects him to leave her behind and knows it will hurt too much if she allows herself to love him. But the more she gets to know him, the more she sees what they could have together.
Things aren't all rosy and lovey dovey though. Isobel's cousin is furious that the land has been lost to an Englishman. Her brother returns and tries to wangle himself back into her good graces, while at the same time searching for a legendary family treasure. Meanwhile, Jack experiences several suspicious accidents that have him wondering just who is out to get rid of him. Jack's mother arrives, bringing a new set of stresses for him, but also a new appreciation for the woman he married.
The secondary characters were just as well developed as the main characters. Meg and Coll were fantastic as Isobel's friends, giving her the support she needed as she adjusted to her new life. I really liked the interactions between Coll and Jack, as each of them was determined to protect Isobel from the other. It was especially satisfying to see them become friends by the end of the book. I also liked Isobel's aunt. She was a bit flaky, but her heart was always in the right place. She was also a key element in dealing with Jack's mother, who also went through quite a transformation during the book. Isobel's brother Andrew was a character that was very easy to dislike. He was immature, whiny, and selfish and I just wanted to push him into the loch. I'll be interested to see if he reappears in a later book and if he improves at all.
I enjoyed the mystery of the treasure, what happened to one of the ancestors, and who was attempting to kill Jack. It was fun to see Jack and Isobel work together to discover the truth. I kept changing my mind about who was behind the attacks, but I was glad to see I was right about who it ended up being.