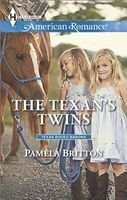 Series:
Texas Rodeo Barons
(Book 4)
Definitely Not Daddy Material!
Jasmine Marks is focused and hardworking, and when she took a job as engineer for Baron Energies, she left behind her support network. Now, the burden of caring for her twin girls is all on her, and she doesn't have time for a dilettante playboy like Jet Baron. Besides, she needs her job, and she can't blow it by getting involved with the boss's son.
On the surface, Jet Barron is a dabbler, dropping into work one day and riding rodeo the next. But when he makes his mind up, he goes for it, full-out. He knows a lot more than anyone suspects, about the oil business, about women. And this woman needs someone to count on -- which will be Jet, if he gets his way.
Wonderful story. Jasmine is a hardworking oil engineer, a woman in a man's field. It has taken her awhile to find a job and now that she has it she doesn't want to mess it up. She is also the single mother of twin girls, which adds another layer of stress to her life. Things are going well until she's assigned to work with Jet.
Jet isn't known for commitment to anything. He has a job at the company, but is rarely at the office. He's more known for his rodeo activities and the number of women he has dated. But he's getting more involved with the company, as he's going to have to step up while his sister, who really runs things, is out on maternity leave. On his first day as the new Jet, he is scheduled to meet the new engineer at a prospective site. When he gets there, he sees a beautiful woman that he assumes is a stripper that his friends have sent to prank him. Open mouth, insert foot. The woman is the new engineer and she has no trouble setting him straight. I loved seeing the way that he shows he's much more knowledgeable than she expected, but that he also has some balance in his life.
From the beginning Jet is drawn to Jasmine in a way he's never been drawn to a woman before, He's always avoided women with kids, but Jasmine and her girls get under his skin and into his heart. While he is definitely attracted to her, Jet realizes that what Jasmine needs more than anything else right now is a friend. I loved seeing him be there as a shoulder for her to lean on or to cry on. It was great to watch as he overcame the confusion of his feelings to realize exactly what he felt for Jasmine and her girls. It was fun seeing him getting into being with the girls, playing with them, but also worrying so hard when Brooke got sick. I loved seeing the changes in him, from the carefree and sometimes careless guy at the beginning to the loving and responsible man at the end.
Jasmine's life has made her very independent and self reliant. She is used to doing everything on her own. She isn't quite sure what to make of Jet when she discovers that he's not the careless and clueless guy she thought he was. His help and support are hard to resist and she finds herself falling for him. But Jasmine is reluctant to believe that anything between them can last as she's had far too much experience with good things coming to an end. She pushes him away, telling herself she's doing it to protect her girls, but in reality she's afraid to believe that that kind of happiness is possible for her. I loved the ending and seeing how Jet's patience and understanding of her fears enabled her to overcome it all and reach for the happiness she wanted.