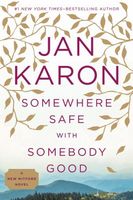 Series:
Mitford
(Book 10)
After five hectic years of retirement from Lord's Chapel, Father Tim Kavanagh returns with his wife, Cynthia, from a so-called pleasure trip to the land of his Irish ancestors.
While glad to be at home in Mitford, something is definitely missing: a pulpit. But when he's offered one, he decides he doesn't want it. Maybe he's lost his passion.
His adopted son, Dooley, wrestles with his own passion for the beautiful and gifted Lace Turner, and his vision to become a successful country vet. Dooley's brother, Sammy, still enraged by his mother's abandonment, destroys one of Father Tim's prized possessions. And Hope Murphy, owner of Happy Endings bookstore, struggles with the potential loss of her unborn child and her hard-won business.
All this as Wanda's Feel Good Café opens, a romance catches fire through an Internet word game, their former mayor hatches a reelection campaign to throw the bums out, and the weekly Muse poses a probing inquiry: Does Mitford still take care of its own?
Wonderful return to Mitford, though I did find it a bit of a slow start. Father Tim and Cynthia are back in Mitford after their travels. Cynthia is deep into her next book, but Father Tim is at loose ends. His friend and doctor is retiring and headed off to do charity work in the Sudan, leaving him feeling that he should be doing something useful with his time. But when trouble comes to his old parish, he realizes that he is not the one best suited to dealing with it, leaving him wondering what he should be doing.
The people of Mitford don't leave him wondering for long. Father Tim soon finds himself involved in many aspects of peoples' lives. I loved seeing his patience with Sammy, one of Dooley's younger brothers. Sammy is still dealing with his anger over his mother's treatment of him and acts out in many ways. He has an explosive temper, resents his oldest brother's success, and does his best to push everyone away. Even when Sammy wrecks Father Tim's car, he doesn't wash his hands, but continues to show his love. Though there isn't a complete turnaround, progress is made by the end of the book. Hopefully there will be more of Sammy in another book.
One of Father Tim's favorite places in town, the Happy Endings bookstore, is in danger of closing. The owner is newly pregnant and having problems that have sentenced her to bedrest. To prevent that from occurring, he offers to open the store for her one day a week, leading others to do the same. I loved seeing him get so involved in the running of the store and helping people find books. The support from the various townspeople is wonderful to see, and I loved the various book quotes they posted on the bulletin board. Father Tim seems to have found a perfect place to influence many lives.
Running throughout the book is the local paper's campaign to name the town's "Leading Citizen". The frontrunner is Father Tim, who is not at all happy with the idea. He doesn't feel worthy of such a title, and doesn't like being held up as such a role model. And yet, he finds a way to help so many. I enjoyed seeing his relationship with Coot, the local handyman, and how he was there for Coot during a heartbreaking loss and then helped make a dream come true. I loved seeing the "Turkey Club" back together, and hearing their observations on life in Mitford. Father Tim also has a wonderful way of listening to people who come to him, allowing them to work out their own problems with only some guidance from him. This especially shows in his relationship with Dooley and his struggles with his love for Lace. So much support, but also trust that Dooley will do what is right for both.
There are plenty of updates on old friends, and the introduction of new ones. I loved the surprise visitor to town and the incredible news she brings to a resident. There are interesting developments with Esther's Orange Marmalade Cake, and also with the former mayor of Mitford. I enjoyed the arrival of Fancy's sister Shirlene, and the effect she has on the morale of many residents. There are some things left hanging, which I hope means that there will be another visit to Mitford soon.