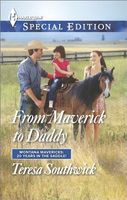 Series:
Montana Mavericks: 20 Years in the Saddle
(Book 2)
MONTANA'S LITTLEST MATCHMAKER
RUST CREEK RAMBLINGS
Have you met eight-year-old Lily? The fast-talking street-smart New Yorker has charmed everyone here in Rust Creek Falls. She has even managed to win over Caleb Dalton, our curmudgeonly cowboy who usually avoids all things family related. Or could it be that Caleb's real interest lies in Lily's adoptive mom, Mallory Franklin?
It's hard to believe our eternal bachelor would consider getting involved with someone who has a child. It's even harder to fathom that spunky Mallory would date a man whose only documented commitment is to playing the field. But Lily insists the two are the perfect couple, and who are we to argue? Stay tuned, dear readers, and see if Lily can lead them down the bridal path!
Good book. Mallory moved to Rust Creek Falls from New York City six months ago, along with her niece Lily. When Lily's parents died in an accident, Mallory decided they needed a fresh start. They've both settled well into their new lives. Having recently ended a relationship, Mallory isn't interested in putting herself or Lily through that heartache again. Getting involved with her boss's son Caleb is not in her plans, but Lily has different ideas.
Caleb is a commitment shy cowboy. He witnessed the painful end of his cousin and best friend's marriage and has no intention of going there himself. Everyone in town knows what he is like. He is enchanted by Lily the day he stops by his dad's office and meets her, but meeting Mallory was like being struck by lightning. He knew that he needed to get to know her better.
Poor Caleb was doomed from the beginning, he just couldn't admit it. His relationship got off to a pretty rough start when, on his first date with Mallory, she had to witness other women coming on to him. He had to work hard to get her to accept a second date. Mallory was cautious about getting involved with Caleb because she worried about what effect it could have on Lily when it ended. Their second date threw them a little closer together than they expected, and they had to decide how to deal with their changing feelings. Caleb and Mallory spend a lot of time insisting that they are only friends, but people around town constantly treat them as a couple. It seems that the harder they fight it, the closer they get. I also loved seeing Lily and her effect on Caleb. For a guy who was a confirmed bachelor, he was wonderful with her. It even affected his relationship with his sister - there was a great scene with Caleb and his newborn nephew. Both Caleb and Mallory have to overcome their fears before they can get the future they both want, and it's with Lily's help that they are finally able to do so.
I loved Lily and her straightforward way of looking at things. She had no problem letting people know what she wanted. She was determined to get Caleb and Mallory together. I loved some of the situations she got them into, There was a really fun scene where she hauls out the "Where do babies come from?" question and makes some pretty interesting statements. I loved seeing her help Caleb see the truth.