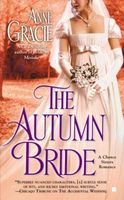 Series:
Chance Sisters
(Book 1)
Governess Abigail Chantry will do anything to save her sister and two dearest friends from destitution, even if it means breaking into an empty mansion in the hope of finding something to sell. Instead of treasures, though, she finds the owner, Lady Beatrice Davenham, bedridden and neglected. Appalled, Abby rousts Lady Beatrice's predatory servants and -- with Lady Beatrice's eager cooperation -- the four young ladies become her "nieces," neatly eliminating the threat of disaster for all concerned!
It's the perfect situation, until Lady Beatrice's dashing and arrogant nephew, Max, Lord Davenham, returns from the Orient -- and discovers an impostor running his household…
A romantic entanglement was never the plan for these stubborn, passionate opponents -- but falling in love may be as inevitable as the falling of autumn leaves...
Really fun book with a kind hearted and strong willed young woman matching wits with an equally strong willed and determined gentleman. Abby is working as a governess when she gets word that her younger sister has been kidnapped and imprisoned in a brothel. With the help of a brothel maid, Abby rescues Jane and another girl, Damaris, but in the process loses her position as a governess. The four girls have plans to leave London, but must first find the means to do so. When her sister falls ill, Abby decides to break into a nearby mansion in hopes of finding something worth stealing. Finding Lady Beatrice was a surprise, and she ended up spending time just talking to her.
Abby's kind heart was horrified by the conditions she found Lady Beatrice in. In another late night chat she and Lady Bea came to an agreement that found Abby and her "sisters" taking up residence with her. I loved the whirlwind that Abby and the girls created when they took over the household. It was fun to see Beatrice return to her feistiness as her health started to improve.
In the meantime, Beatrice's nephew Max had received a letter telling him that something strange was going on back at home. He had been in the Orient for nine years, working to repair the family fortunes, under the impression that his aunt was being properly cared for. By the time he makes it back to London, he's worried sick and furious over the idea of his aunt being taken advantage of. His arrival at the house created a really fun to read confrontation involving mistaken identities, protective instincts from both Abby and Max, and what seems to be an interest in stirring the pot from Lady Bea. Unfortunately for him, he doesn't stand a chance against the plans his aunt has to make the girls a permanent part of her life.
Max feels terribly guilty over what happened to his aunt while he was gone, and having Abby rub it in doesn't help his attitude toward her at the beginning. It doesn't take long for him to realize that his initial suspicions were wrong, but he is still unwilling to trust her. He knows that they are no relation to his aunt, and he is certain that they are up to something. He also suspects that Abby is hiding something, a suspicion proved correct when something from the past puts her in danger.
Max also finds himself caught in quite a dilemma. He entered into a betrothal at the age of eighteen as part of his efforts to repair the family fortunes. It is now time for him to follow through on his promise. He is a man of his word, but his heart is becoming more and more set upon the fascinating and frustrating Abby. He is also a methodical man who must have everything in order before he is comfortable declaring himself, which creates a whole host of misunderstandings before he is able to redeem himself.
Abby is just as enamored of him, but her experiences have shown her that men like Max aren't interested in women like her in any respectable way. When threats are made against her, promising that her presence would bring disgrace to Max and his aunt, Abby feels that leaving is the only thing she can do to protect those she has come to love. Once again it falls to Lady Beatrice to play the part of fairy godmother, and she does so in a most amusing way.
I loved the mix of characters, from the irrepressible Lady Beatrice to "sister" Daisy, the brothel maid. Max's friend and business partner Freddy is very funny with his fear of the young ladies or "muffins" as he calls them. Each of them has a unique part of the story, and the way they blend together made this a really fun read. The dialogue is fantastic all the way through, teasing and loving and never mean. I can't wait for the next installment.