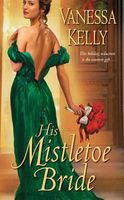 BLAME IT ON THE MISTLETOE…
When Major Lucas Stanton inherited his earldom, he never dreamed his property would include the previous earl's granddaughter. Phoebe Linville is a sparkling American beauty, yes, but with a talent for getting into trouble. Witness the compromising position that forced them into wedlock. Whisked away to Mistletoe Manor, his country estate, it isn't long before she is challenging his rules -- and surprising him in and out of bed…
Phoebe has no intention of bowing to Lucas's stubbornness even though he offers all that she wants. His kisses and unexpected warmth are enticing, but Phoebe is determined to show the earl of Merritt what real love is all about. And if that takes twelve nights of delicious seduction by a roaring fire, she's more than willing to reveal her gifts very slowly…
This was a really fun book. Phoebe is the daughter of an American Quaker father and and English earl's daughter. The marriage caused her mother to be estranged from her family. Both of her parents have died and Phoebe is living with her Quaker half brother and his family when she receives a letter from her grandfather inviting her to England. Phoebe is happy to go, as she feels that she doesn't quite fit in with her brother's family. She arrives in England only to discover that her grandfather has died and she is now the responsibility of the new earl.
I loved Phoebe. She is a young woman caught between two worlds. She has never quite fit in with the Quaker life she grew up in. She has a bit too much spirit and passion for them. But when she arrives in England she is dismayed to learn of her grandfather's death, and that his wish was for her to marry the new earl. Lucas is far different from the men that she knows and she doesn't know what to make of him. She is also nervous about meeting her new family members and worried about fitting in with them. I loved the way that the family was so warm and loving to her. I also enjoyed seeing her reactions to everything from the houses to shopping for clothes. She is quite feisty at times, and I loved seeing her Quaker upbringing pop out in unexpected places. She had a lot of things to adjust to, but Lucas always seemed to be there to support her.
Lucas is surprised by Phoebe. His initial impression had been that she was meek and quiet and pretty colorless, but that doesn't last long. He quickly sees her yearning for family and puts his mind to making her feel comfortable in her new world. He also starts to see hints of the fire and passion that she tries to keep buried. He begins to think that she is just the woman he needs as his wife. Lucas is also trying to adjust to his duties as the earl. It is far different than what he did in the military and he is having a difficult time of it.
There is chemistry between Phoebe and Lucas from the beginning, but both have different goals for a relationship. Phoebe wants to marry for love. Lucas was burned long ago by a woman he thought he loved and wants nothing to do with such strong emotions. He can't help his protective feelings, and when he rescues her from an awkward situation he also ends up putting them in a compromising position. This forces them to marry quickly and head off to his country estate. Alone together, their attraction draws them closer together, at least physically. But their differences also put a strain on them. Phoebe has a kinder, gentler way of dealing with people whereas Lucas's military background has him seeing things as a more black and white issue.
Phoebe has accepted that she has fallen in love with her husband and she wants his love in return. Lucas refuses to allow himself to experience that "excess of emotion" that got him into so much trouble when he was younger. He doesn't see that what he feels for Phoebe is far different than his previous obsession. I loved watching the progression of his feelings, and that everyone could see it except for him and Phoebe. I loved seeing her stand up to him and make her opinions known, and Lucas trying so hard to protect his heart, not realizing that Phoebe had already stolen it. It was great when Lucas finally figured out where he'd been going wrong and the difference it made to his entire outlook.
I also enjoyed all the family dynamics. It was fun to see the reactions each had to Phoebe and she to them. The feud between Silverton and Lucas was an interesting addition to the story. Their sniping at each other was quite a contrast to the rest of the family's loving attitudes. I loved it when the old lady locked them in a room and told them she'd let them out when they fixed their relationship. It was great to see what happened when they actually had to talk to each other.