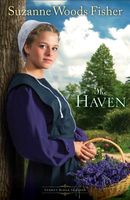 Series:
Stoney Ridge Seasons
(Book 2)
When Sadie Lapp steps off the bus in Stoney Ridge after being in Ohio for the winter, she is faced with a decision--one that goes against her very essence. Yet it's the only way she can think of to protect a loved one.
Schoolteacher Gideon Smucker has been crazy about Sadie since boyhood. But his response to her surprising decision undermines his own reputation--and his relationship with Sadie.
College student Will Stoltz is spending the spring at the Lapp farm as a guard for a pair of nesting Peregrine Falcons--courtesy of the Lancaster County Game Warden. Will needs to get his life back on track, but his growing friendship with Sadie threatens his plans.
The lives of these three individuals intertwine, and then unravel as unexpected twists create ripples through the town of Stoney Ridge . . . and through Sadie's heart.
Good story with an underlying theme of forgiveness. Sadie returns to Stoney Ridge after a visit with her sister in Ohio and the opportunity to learn methods of healing from one of their best. By the time she gets home she is accompanied by an infant that was left in her care at a local bus station. Her arrival home is somewhat overshadowed by the news of a pair of endangered falcons nesting on her family's property. Also resident on the property is college intern Will Stoltz, who has been assigned to study and watch over the birds. Gideon Smucker, the young man who had been courting Sadie before she left, has also been waiting anxiously for her return.
Sadie's return gets off to a rough start when everyone assumes that the baby is hers and she becomes the subject of gossip. She is especially hurt when even Gideon makes the same assumption. It feels like the only person she can really talk to is Will, who always seems to be there when she needs him. He is charming and funny and skilled at getting Sadie to relax and have a little fun.
Will has come to work with the birds and try to recover from some trouble of his own. He made some foolish decisions during his last semester which have gotten him suspended from school. His father has cut him off financially, and set up this internship to give him something productive to do. But Will has also come with some secrets of his own that begin to weigh on his conscience. His growing friendship with Sadie opens his eyes to another side of life and he's left questioning what he should do.
Gideon has always been shy and rather tongue-tied around Sadie. He loves her but has never been able to get the words out. Jealousy hits him rather hard when he sees Sadie with Will and he makes some assumptions that gets him into trouble with her. Every attempt he makes to fix things seems to go wrong for him and just make things worse.
I enjoyed this book and seeing the changes that each of the characters goes through. Sadie starts out as very shy and doesn't seem to have a lot of confidence. She also seems to have a bit of trouble with being judgmental. Taking care of the baby and using her healing skills starts to change things, as does the admiring attention of Will. I liked seeing the way he encouraged her to stand up for her wishes. I liked seeing the influence she had on Will.
I have to admit that Gideon was not my favorite character. For someone who claims to love Sadie, he was awfully quick to believe the rumors. He didn't even bother to ask her about the truth. I really didn't see that he had much in common with her to make a successful relationship.
Will was pretty interesting. His attitude at the beginning was pretty bad, and he certainly came across as selfish. But he did seem to care about the birds he was watching over. I liked his willingness to jump in and help Sadie with the baby. I really enjoyed their developing friendship and how they were able to talk about anything. He was surprised by how much he opened up to her, and the effect that it had on him. He seemed to be developing a real caring for her, even though their lives are so different.
The secondary characters all add depth to the story. Sadie's little sister M.K. seems to be the catalyst for many of the things that happen. She has the habit of speaking before she thinks which creates some trouble for Sadie. But she has a good heart and always means well. Their father is loving and wise, but also somewhat clueless, especially when it comes to women and their actions and feelings. I liked their housekeeper, Fern, and her way of guiding people the way she thought they should be.
There are quite a few interesting plot twists and turns in the story affecting the main characters and others. I was surprised by the one involving the baby. Will has several things going on in his life, one of which is his relationship with his father. That takes an interesting turn, especially with a revelation about his father that explains several aspects of Will's life. His story seems to have been left hanging, so I'm curious to see if he's in the next book.