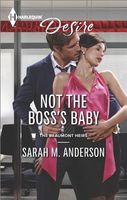 Series:
Beaumont Heirs
(Book 1)
What the boss wants…
As the oldest son, Chadwick Beaumont has sacrificed everything for the Beaumont's company, but he swore he'd never follow in his father's philandering footsteps. So, for years, he's dutifully kept his distance from the temptation outside his office door -- his beautiful secretary Serena Chase.
But now everything has changed. The family business is in jeopardy. His personal life is in shambles. And his sexy assistant is suddenly single…and flirting. Chadwick is tired of doing what's expected. It's time for him to go after what he wants. And what he wants is Serena -- even if she's expecting another man's child.
Good start to a new series. Chadwick is the CEO of the family business. As the oldest, that is what he was raised to do; he was given no choice. He has worked long hours to make the business a success, while his ten siblings/half-siblings/step-siblings do nothing but find ways to spend money. His wife filed for divorce almost two years ago, but is holding out on finalizing it because she wants more money. A large conglomerate wants to buy his company. The only thing that has made his life bearable is his executive assistant. He's been attracted to her for years, but he's been married, she's been in a relationship, and he refuses to be anything like his philandering late father. So he has kept his distance.
Serena's long term relationship recently ended, then she discovered that she was pregnant. She worries that she could lose her job, which she needs now more than ever. She had a poverty filled childhood and has sworn that she will never allow herself to live like that again. She's always been attracted to her boss, but doing something about it was not an option. She is determined to keep things strictly professional.
I loved Chadwick and Serena. Both of them have high standards for themselves. Chadwick is really a nice guy who has been caught up in a bad situation. His father raised him to be the heir. He wasn't ever shown any love from either parent, and his father was actually abusive. But Chadwick is honorable and responsible and has done his best for the company at the expense of his own happiness. Serena has always been independent and determined to have a better life. Her parents had loved her, but were fiscally irresponsible and she didn't want to live like that again.
I loved Chadwick's ability to see that something was off for Serena, and how he wanted her to know that he would be there for her. It was then that they realized that there was more between them than just business. I loved seeing Chadwick trying to do things for Serena and being completely confused by her attitude about it. It wasn't until their dinner out together that he began to fully understand what her life had been like. I also liked seeing the way that he opened up to her about his childhood and the effect it had on his life. It was her encouragement that had him looking at his future in a different way. Serena was equally sensitive to Chadwick and his problems. She could see that the business troubles were tearing him up and tried to help him work through what it all meant for him. I loved the way she listened to him tell about his childhood and didn't pity him, but admired the man he was in spite of it.
The heat between them was intense, but so was their determination to do what was right. The night that they shared after the gala showed them what they could have together, but they also knew that they had stepped over the line when it came to working together. What followed was heartbreaking, but also showed Serena standing up for what she thought was right. I loved Chadwick's solution to the problem and how he came after Serena once he had it all worked out.
I'm looking forward to Phillip and Matthew's stories, and wonder if there will be stories for the other siblings. If the others are as good as this one, I sure hope there will be.