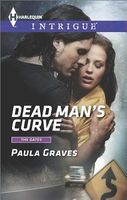 Series:
The Gates
(Book 1)
Coming in from the cold is the only choice for Sinclair Solano, once a fiery young radical turned CIA double agent turned fugitive. Not only must he free his kidnapped sister from the rebels he betrayed, but he also must clear his name. And neither will be easy with beautiful FBI agent Ava Trent dogging his trail. Seeing no other option, Sin uneasily joins forces with Ava to plan an ultradaring guerrilla attack and rescue op. But the mission requires trusting Ava, and putting her irresistible body in the line of fire. Being alive has never been so dangerous….
Terrific beginning to the new series. Ava has come to town to investigate the kidnapping of Alicia and Gabe Cooper. While there she catches a glimpse of a man she thought was dead - Sinclair Solano, who just happens to be Alicia's brother. She had known him years earlier, before she became an agent and before he became what appeared to be a terrorist. He was on the most wanted list before his "death" and she's not about to let him get away now.
The action is intense and almost nonstop from the beginning. Ava follows Sin into the woods where she's attacked by one of the people who kidnapped Alicia. Sin saves her, but she's not ready to trust him, even when she finds out why he's there. Sin claims that the terrorist who has Alicia took her to draw him out, wanting revenge for Sin's betrayal. Ava isn't sure she believes him, but either way she isn't going to let Sin out of her sight. They form a reluctant partnership as they look for Alicia and try to come up with a rescue plan.
Ava is determined to do the right thing. She still can't believe that the boy she knew all those years ago became a terrorist. She's followed information about him over the years, calling herself a fool for having fallen for him. That attraction hasn't gone away, and is only getting stronger. As their search for his sister goes on, Ava begins to think that his claims might be true.
Sin had been young and idealistic when he first met Ava back during their youth. He got involved with the rebels, seeing that changes were needed in his country. But it only took a few months to realize that the group wasn't what he thought it was. It was at that point that an American CIA agent convinced him of the good he could do if he stayed in place and worked for them. A faked death should have had him out safely, but apparently someone knew he was still alive. Sin isn't far away when his sister is kidnapped and he is determined to find her and free her. He didn't count on getting spotted by Ava of all people, or having to rescue her from the people who are after him. He'd love to be able to tell her what really happened, but he knows she won't believe him. Having her so close again is a dream come true, but the danger she's in because of him is a nightmare. The attraction between them is still there, and he sees that she's beginning to trust him, but he doesn't see it going anywhere. He's still a wanted man, plus the guilt he feels for the things he did won't allow him to believe in a possible future for them.
The suspense of the book is great. From Ava and Sin joining forces, trying to evade the bad guys, to the final confrontation, I was on the edge of my seat. I loved seeing Sin try to protect Ava, and Ava insisting on sticking right to him. Things are looking pretty grim at one point, but since the kidnappees are Coopers, you just know that the rest of them will show up at some point. First there is Gabe, who escaped from the kidnappers and met up with Ava and Sin, and then
"Who are they?" she whispered as he continued smiling. "Coopers, darling," Gabe drawled, already moving toward the dark figures gliding through the woods ahead. "Who else?"
From there it's a given that everything will turn out, it's just a question of how. There's a bit of tension between Sin and the others because of his reputation, but the appearance of the former CIA agent Alexander Quinn (also familiar from other books) relieves some of that. The final confrontation has a couple hiccups that put Ava in danger, but all works out in the end.
The aftermath has Sin dealing with the fallout of his reappearance, Ava facing decisions because of her part in the whole thing, and both wondering if they'll see each other again. There's plenty of emotion to go around there, but the final scene is quite satisfying. There's also a memorable line by Alexander Quinn, but I'll leave that for the reader to experience...