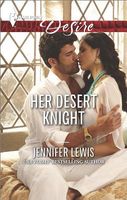 Series:
Al Mansur Brothers
(Book 3)
Daniyah Hassan paid the price for leaving home and defying her father. Now the divorcée is back in Oman, nursing her wounds and fending off an arranged marriage. Enter maverick investor Quasar Al Mansur: though Dani's sworn off men, she instantly melts in his heat.
Quasar's always had his pick of starlets and socialites, but Dani's beauty and vulnerability tempt him beyond reason. Even after he discovers she's off-limits, Quasar will never let their decades-old family feud stop him from getting what he wants….
Pretty good book. Dani had gone to the United States to go to college and while there had met and married an American. When he became abusive she divorced him and returned to Oman and living at home. But her actions were considered scandalous by local custom and her father is keeping a tight rein on what she does. Visiting her favorite bookstore one day, she met Quasar, another Omani who has spent a lot of time in America. They bond over their American lives versus their Omani lives.
There is an instant attraction between them, though Dani has sworn off getting involved with another man. She can't resist his advances and starts spending time with him secretly. Quasar had been drawn to Dani's beauty first, but then to the vulnerable woman he gets to know. It wasn't until they'd been seeing each other for awhile that he learned that there was a great deal of enmity between her father and his brothers, over a piece of land. In spite of his brothers' demands that he leave Dani alone, he can't do it.
Overall, I liked Dani. She had had the courage to divorce her husband, even though she knew it would create problems at home. Once she met Quasar, her healing from the hit her self esteem had taken began. He certainly made her feel good about herself, even though she was determined to keep their relationship secret. I also liked the fact that she stood up to her father about the man he was trying to marry her off to. She did know her father and his attitudes well, and tried to explain to Quasar that his desire to meet with her father was not a good idea. Dani finally begins to gain the confidence she needs to move on with her life, thanks to Quasar's attentions, when she runs into a situation that sets her back.
Quasar is a successful business investor who is not used to having his wishes denied. In spite of what his brothers tell him about their problems with her father, he is determined to keep seeing Dani. He quickly realizes that he wants more than a fling with her and wants to begin a relationship with her in a proper fashion by speaking with her father. He doesn't listen to Dani when she tells him that it would be a very bad idea, and does it anyway. At that point he finally realizes that it's going to take something big for them to be able to be together. I enjoyed the solution he came up with and seeing how various people reacted to it. The epilogue was good.