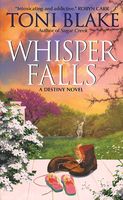 Series:
Destiny
(Book 3)
Tessa Sheridan came crawling back to her quaint hometown of Destiny after her big-city interior design career crumbled. Now not only must she struggle to make ends meet, but she has to contend with a biker next door and the roar of Harleys shattering the serenity of her cabin in the woods by Whisper Falls.
Worse still, her sexy, bad boy neighbor makes her feel breathless and weak -- and shy, petite Tessa knows what a major mistake it would be to get involved with someone so . . . dangerous.
They say that former teen rebel Lucky Romo has a dark, secret past -- that he's trouble with a capital "T." Still, Tessa feels all tingly when she sees how well he fills out a pair of tight jeans. And when Lucky invites her into his world, she knows the intense heat sparking between them could lead her somewhere wild and wonderful . . . and, yes, dangerous!
A story of second chances and never giving up. Tessa has come home to Destiny after a long illness wrecked her career. Now she's working in the local bookstore as she tries to restart her interior design business. When the cat she's caring for gets away from her, she meets her new next door neighbor Lucky Romo. He's big, tattooed and scary, but she also sees something different in him. She senses a loneliness that matches hers, and an attraction that isn't one sided.
Lucky is the long lost little brother of Mike Romo from the previous book
Sugar Creek
. When their little sister disappeared years ago, Mike became obsessed with following rules because of his guilty feelings. Lucky went the other way, acting out in an effort to get the attention of his grieving parents. His actions got worse until he left town after graduation. He hasn't been in contact with his family since then. He got involved in a biker gang for five years before he walked away from that mess. For the last ten years he's been trying to turn his life around with his own business and staying on the right side of the law. He's returned to Destiny to take control of a new part of his life, though he hasn't faced his family yet. His encounter with Tessa finds him attracted to her, even though she's nothing like the women he usually goes after. He sees her as a good girl, and with his past feels he's no good for her and tries to stay away.
I loved both Tessa and Lucky. Tessa is tired of feeling like her life is passing her by because of her illness. She is determined to do something to shake it up. Making friends with her scary new neighbor is a good start. Lucky is determined to keep it just as friends in spite of his intense attraction. I loved seeing the way that they developed their friendship first. Lucky hires Tessa to decorate his house and is amazed by how quickly she seems to understand who he is, inside and out. He fights his attraction to her very hard, but realizing that she's just as interested makes it almost impossible. There are some really funny encounters between the two of them that show the battle raging in him. Tessa is really curious about Lucky's past and what it is that has him fighting so hard against the sparks between them. I loved the way that she actually listened to him when he finally opened up to her and didn't judge him. Her acceptance of him as he was went a long way toward changing his life. I loved the scene in the biker bar when Tessa goes to see him there. She really puts herself out there to show him just how much she wants him. Tessa is a really independent woman who hates that her disease occasionally makes her dependent on other people. She doesn't like to have anyone around when she's sick, but doesn't have any choice with Lucky. He refuses to leave her alone. His care for and of her is so sweet and shows just how great a guy he really is.
The romance between them is sweet and hot and looks on track for an easy HEA until part of Lucky's past shows up in Destiny. Suddenly Lucky is worried that his old life has put his family and Tessa in a great amount of danger. At this point Tessa fears that Lucky will never be able to put those things behind him and live a normal life. She's not sure she can deal with it all and pulls away, making both herself and Lucky miserable. I loved seeing the way that Lucky decides their love is worth fighting for and what he does to show her.
I also enjoyed seeing the way that Lucky slowly becomes part of his town again. The biggest thing he has to face is getting back in touch with his brother and his parents. I loved seeing him finally able to explain to his parents why he did the things he did back when he was a kid, and how they understood what he had gone through and their part of it all. His brother Mike was another problem all together. I liked him in the previous book, especially after Rachel started softening him up a little. But in a good chunk of this one he was a really judgmental asshole to Lucky and I wanted to smack him. He redeemed himself, but I wasn't sure it was going to happen until then.