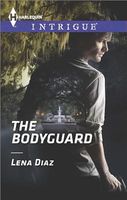 SHE HAD NO ONE TO FIGHT FOR HER -- UNTIL ONE POWERFUL BODYGUARD REFUSED TO LEAVE HER SIDE
Her perfect marriage was a sham and Caroline Ashton had the physical and emotional wounds to prove it. With nothing left to lose, Caroline is ready to walk away -- and hires Luke Dawson as her personal bodyguard. But before he can do more than secure her a safe house, Caroline stumbles upon the body of the man she'd fought day and night to escape. Now, confronted with fears beyond anything she ever imagined, Luke is the only man she can trust. Putting her life in someone else's hands isn't easy, but Caroline knows survival never is. Besides, Luke's proven himself to be a worthy protector -- one who'll stop at nothing to see she never suffers again….
Excellent story with an incredibly strong heroine. Caroline has spent the last five years in hell. The man she fell in love with turned out to be an abuser of the worst kind. She has been kept prisoner in her own home, every aspect of her life controlled, from what she wears to what she eats. She's allowed out of the house once a week to run two errands and timed to make sure she doesn't make any other stops. After months of planning she is finally ready to get away. Still in fear of her life, she goes to the first security agency she finds in the phone book and hires Luke to be her bodyguard. When they arrive at the house she has leased, they find her husband's body and suddenly she is suspected of his murder.
Luke was surprised when she walked into his office because he knows that a rival security firm provides protection for the Ashtons. But he sees the fear in her eyes as she asks for his help and he has no choice but to help her. Luke is with her every step of the way as she deals with those who believe that she's the one who killed her husband, and is there to protect her when she is attacked.
One of the things I liked best about the book is that it felt so real. The descriptions of what Caroline went through were horrific, but completely believable. I also liked the strength that Caroline showed, first in her determination to escape, then in her need to overcome what she had been through. I loved the way that she had an instinctive trust in Luke and his ability to protect her, and also that he would not hurt her himself. I loved Luke's gentleness with her and how he showed her the respect that her husband never did. Just being there for her gives her the strength she needs to start to take control of her life.
The mystery of just who killed Richard Ashton is very well done. There were so many twists and turns that the investigation took that I wasn't sure until the end just who was responsible. Every person had equally strong motives for the murder. Just when I thought I had it figured out something would happen to change my mind. By the time the end came all I could do was hope that Luke would be in time to save Caroline.
I also loved the realism that didn't have things be all sunshine and roses for Luke and Caroline at the end. She admits that she needed time away from him in order to get herself together, but that she's still "a mess" and probably will be for a long time. I also liked that they still feel that their love is worth the risk.