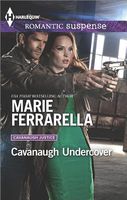 Series:
Cavanaugh Justice
(Book 27)
Confronting "Ben Cartwright" in a seedy motel room, Detective Tiana Drummond is more than suspicious. A member of the CSI team, she's sure the handsome hunk is connected to the underground ring holding her sister captive. And like him or not, he's her only lead to finding Janie before it's too late.
But Tiana, always distrustful of men, more than likes him. "Cartwright" makes her feel like she's never felt before -- desired, protected…and totally chagrined when she discovers he's undercover cop Brennan Cavanaugh! Teaming up on a dangerous search, they'll have to risk their lives. But keeping their covers isn't as easy as falling in love!
I love the Cavanaugh series and I was so excited when Andrew found another whole branch of the family. As Brennan put it
"I've heard of family trees, but this is damn near a family forest."
We met Brennan at the end of
Cavanaugh Hero
when he broke his undercover role to save Andrew Cavanaugh. Because of that move, his bosses at the DEA put him on desk duty, which he hated. At a family gathering where the new batch of Cavanaughs were getting to know the family, Brennan is offered an undercover job by the Chief of Detectives. So he is now trying to get on the inside of a human trafficking ring that is kidnapping young girls.
Tiana is a CSI detective in San Francisco when her younger sister goes missing. She takes a leave of absence to go looking for Janie. Janie is the only family she has after the death of their abusive father. Their lives with her father have made her very distrustful of men, and the smooth operator she finds sets off all kinds of alarms. She's sure he's connected to the ring, but he's unlike any of the criminals she's come into contact with in the past. He's also being very accommodating to her in her own role as a madam looking for workers. She's thankful, but also somewhat suspicious.
This was so much fun to read. I loved the initial interactions between Tiana and Brennan. Each is suspicious of the other one. Brennan thinks she's too classy to be what she says she is, but he's willing to keep her close and use her to further his attempts to find the missing girls. Tiana finds him a bit too personally appealing to her, and doesn't understand why he seems to be slipping past her barriers. I liked the way that she trusts him enough to take his advice on the meeting she has with the trafficker, but still has reservations about him.
It gets really good when she decides it's in her best interests to turn him over to the cops. He tries to tell her he's undercover, but she doesn't believe him. I loved the scene where she actually took him to the police station. Once everything is sorted out, I liked the way that they joined forces for real. They have a nearly seamless way of working together that gets them a lot of very useful information. Things are also heating up for them on a personal level. Brennan sees the way she guards herself, and wants to show her that it's possible for her to have much more happiness than she allows herself. She brings out feelings in him that he hadn't expected to feel quite yet. For Tiana, Brennan is unlike any man she's ever known before. He is protective of her but he also respects her abilities. The passion she feels for him she plans to enjoy for as long as it lasts, even though she doesn't expect anything long term.
I loved the culmination as they found "Mr. Big". Both Brennan and Tiana did a great job of thinking on their feet. I really enjoyed Brennan's recruiting of his brother and sister as backup and the fun family dynamics among them, even as they are always available for support of each other. The excitement of their search kept me turning the pages until everything was resolved. Brennan's timely appearance at the crucial moment also gave another little piece of information about him that explained more about the man he is.
Of course, I loved the epilogue as it takes place at another Cavanaugh family event. I always enjoy the reactions of people new to the family, and Tiana is no different. Her reaction to the Cavanaugh track record is great, especially with what Brennan has to say.