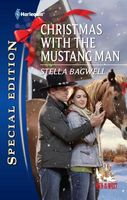 Series:
Men of the West
(Book 23)
She'd come for the mustangs, Dallas Donovan told herself. Just a quick visit to Boone Barnett's Nevada ranch. Then her truck's engine seized and she stayed the night in the rugged, off-the-charts sexy Boone's home. Had pizza with his daughter, waited for the mechanic -- and woke up to a snowfall keeping her in the reclusive rancher's grasp for another few days.
Boone didn't believe in Christmas or miracles or a woman who understood his love for this wild untamed land. Yet now Dallas brought decorations and laughter and joy to his home. But what would happen when the snow melted and Christmas was over...?
Good book with two people who have some baggage to unload before they can find a future together. Dallas has come to Boone's ranch to buy some horses for her equine therapy business. When her truck breaks down she has to stay the night with Boone and his daughter, which gets extended to several days when they have to wait for a part for the truck.
Dallas is attracted to the sexy rancher, but doubts the feelings that are growing in her. She was engaged a few years earlier to a man who broke it off right before the wedding. He had been more interested in becoming part of her wealthy family than in being married to her. Now she doubts her own judgment when it comes to men. When she first came to the ranch all she could see was how isolated and desolate it seemed to be. But being with Boone and Haley she starts to see the beauty of it. I loved seeing the connection that Dallas and Haley had right away. The sparks that were there between Dallas and Boone were strong and I loved seeing their connection grow.
Boone and his daughter had been by themselves for a long time. His ex-wife had left when Haley was small because she couldn't handle life on the ranch. He has also had longstanding issues with his father who had also had problems with life on the ranch. He doesn't date because he has no plans to ask another woman to make her life there. He loves his daughter but doesn't realize until Dallas comes how much Haley misses having a woman in her life. He's surprised by how quickly Haley takes to Dallas. He's also surprised by how quickly he starts to feel things for her too. She starts to bring life and light back into his life and he would love to ask her to stay. But Boone doesn't think that she would be happy for long if she were so far from her family and friends and refuses to ask her.
Both of them were letting their pasts blind them to the possibilities of their futures. Dallas made her leap of faith sooner, but couldn't convince Boone that she knew what she wanted. I loved the talking to she got from her grandmother that motivated her to go after what she wanted. Boone was so afraid of ruining Dallas's life that he couldn't see what a difference her love made. It isn't until Haley forces him to have a long overdue conversation with his father that he sees the mistakes that he has made. I loved the ending and the decisions that were made to enable them all to be happy.