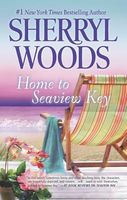 Series:
Seaview Key
(Book 2)
Falling for a handsome stranger on the very morning they meet is hardly what recently divorced Abby Miller planned for her return to Seaview Key. Hoping to mend an old friendship and to give back to the community she loves, Abby's definitely not looking for love.
For ex-soldier Seth Landry, Seaview Key seems like the perfect place to heal a broken heart…eventually. And when he rescues a beautiful woman on the beach, his nightmares about the past are eclipsed by daydreams about the future.
Neither Abby nor Seth are looking for forever, but powerful love has its own timetable. And taking a chance on the future will test their courage in ways neither of them could possibly have anticipated.
Terrific story of love, family and friendship. Abby has come back to Seaview Key, looking for a fresh start. She is recently divorced from a marriage that ended up being emotionally barren. She has come home to see if she can find the woman she used to be. She also has a plan to build some homes on her family's land as a way to give back to the community. She would also like to renew her friendship with her high school best friend Hannah. She has enough on her plate and has no plan to get involved with a man.
Seth came to Seaview Key with his own need to heal. As a former military medic he's haunted by the memories of those he couldn't save, including the woman he loved. He's happy working with his old friend Luke, the island's doctor, and serving the community as its paramedic. When he rescues Abby one morning on the beach he's surprised by the attraction he feels for her.
I really liked the romance between Seth and Abby. It started out as attraction, but one that they didn't give in to right away. Each is self aware enough to know that they may not be ready for a serious relationship. They begin by working together on a fundraiser to buy a rescue boat for the island and use the time to get to know each other. Abby is cautious about getting too serious as she tries to overcome the damage her ex-husband did to her self esteem. But there is something about Seth that she just can't resist. Seth's issues are a bit harder for him to overcome. He is extra cautious about risking his heart again, having barely survived the death of his girlfriend and the guilt he feels for not being there. He also has trouble dealing with the fact that Abby has significantly more money than he does. His parents spent a lot of time pursuing wealth and after their deaths it has caused major problems between his two sisters. All he can focus on is the trouble it can cause. In spite of these negatives, being with Abby makes him happy. I liked the fact that both Seth and Abby are interested in pursuing the possibilities, but that they are determined to take things slowly. I loved the banter between them, the teasing and the way they liked to push the envelope a little. I also liked the fact that when they ran into something that bothered them they would talk it out like the adults they are. They developed enough closeness that they could see when something was bothering the other one and tried to help, whether it was just listening or actually doing something. It did get to the point where they were being almost too cautious, and it was fun to see some of the other islanders get involved in pushing them along. I loved the ending, and the happy little twist that came with it.
Besides the romance between Seth and Abby, there were some other things that arrived on the island with her. Abby had been friends with Luke and Hannah in high school, and their senior year she was Luke's girlfriend. This was hard on Hannah because she loved him too. They all went their separate ways when they went off to college. Now Luke and Hannah are married, but Hannah still suffers from some significant insecurities. Thanks to her bout with breast cancer, she has problems believing in her own beauty. She is afraid that Abby's return will cause Luke to regret marrying her. These fears aren't helped at the beginning by her grandmother's vocal fears about the same thing, and her own daughter's similar interference. I gave Abby full credit for working very hard to show Hannah that her fears are unneeded and all she wants is to be friends again. Luke also does his best to show his wife that she is the only one for him.
The other thing that brought Abby back is her desire to develop her family's land. I loved her reasoning that she wants to give back to the community. I also loved the plans that she had to make them environmentally friendly. She came in with such confidence it was so hard to see her run up against the opposition that came from the mayor. I loved the fact that she didn't give up. It was great to see her get Grandma Jenny and some of the others on her side and then work to find a way to win over the mayor. I loved seeing the way that Seth helped and supported her.