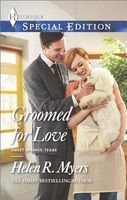 Series:
Sweet Springs Texas
(Book 2)
It's a ruff road to happily-ever-after!
Dog groomer Rylie Quinn lights up the local animal clinic with her charming laugh and easygoing demeanor. But there's a dark secret lingering behind the radiant redhead's bright smile. One man seems determined to dig up Rylie's past…and gets under her skin in a way that no one ever has before….
Is she too perfect? Assistant D.A. Noah Prescott can't help but be irked, both by Rylie's secrecy and by his growing attraction to the mystery woman! As his investigation reveals things she'd rather stay under wraps, the heat they generate flares out of control. But when Noah finally learns Rylie's story, he'll have to decide whether his desire for the truth is more important than winning the heart of the woman he's come to love…
Much better book than I thought it would be at the beginning, because Noah really ticked me off. But he redeemed himself quite nicely. Rylie is a sweetheart and has been a bright addition to the vet clinic. She has a soothing way with both animals and people - except for Noah Prescott. Noah has been stuck bringing his mom's dog to Rylie for grooming a couple times and he hasn't been happy about it. There's something about Rylie's perkiness that bugs him.
I loved Rylie. You know right away that her cheerfulness is a way of dealing with something else. She had been a veterinary student who had quit during her last year to become a dog groomer. She moved to Sweet Springs to be near her uncle, one of the old guys who hangs around the vet clinic. She plans to get her vet tech license so that she can be of more help at the clinic when she's not grooming dogs. I loved seeing her deal with the old guys and also the various animals she comes into contact with. I also enjoyed the way that she didn't take Noah too seriously. She could see that he was super serious and tried to lighten things up with him, but he wasn't cooperating. She was also attracted to him but felt that he was way out of her league and was determined to ignore it.
Noah is a very serious guy. He returned to his hometown after his father's death and mother's injury in an automobile accident. Now he works as an ADA and sees a lot of the worst parts of people. His encounters with Rylie have him feeling very off-center. He's attracted to her and doesn't want to be. He feels that her constant cheerfulness has got to be an act and that she is hiding something. So he takes steps to find out what she is hiding and when he finds something that proves his suspicions he acts on it, hurting and humiliating her. And when he gets "the rest of the story" he is ashamed of himself and admits that he was trying to protect himself from the feelings he is beginning to experience. I loved everyone's reactions and how much they supported Rylie. I also enjoyed seeing their reactions to Noah and what he did, especially that of his mother.
Now that Noah has admitted to himself that he wants to get to know Rylie better, he has to figure out how to get back in her good graces. I loved seeing his attempts at grovelling and all the help he got from Brooke. Once he gets over himself, he turns out to be a really nice guy. It was great to see him get more involved in Riley's world and start to see things from her perspective. At the same time, Rylie is really enjoying her time with Noah. She knows she's falling for him, and for her part she doesn't care whether he has money or not. But she doesn't feel like she can ever belong in his world, and when she hears his boss putting her down she realizes she doesn't want to be the cause of Noah losing out on his own dreams. So now Noah has to show Rylie that their love can overcome everything. I loved the ending and Noah's "go big" moment.