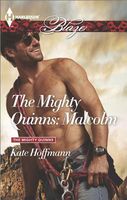 Series:
Mighty Quinns
(Book 27)
Her guide to adventure…in and out of the bedroom
New Zealand wilderness guide Malcolm Quinn is stunned to learn that his father's body -- lost near the summit of Everest almost twenty years ago -- has been found. The discovery stirs up painful memories for Mal, and brings eager reporters out in droves. He is ready to resist them all, until he meets the pretty little Yank who turns his blood to liquid lust….
Amy Engalls needs this story to make her career, but Mal refuses to be interviewed. Instead the gorgeous Quinn offers Amy the kind of adventure she'll never forget. She accepts, realizing she may be jeopardizing her future for a short-term fantasy. By breaking the rules, will she lose everything…including her heart?
A new branch of the Quinn family has been discovered. Mal and his brothers and sister run their own wilderness guide business, following in the footsteps of their late father. When Mal returns from his latest trip he discovers that his father's body has been found bringing unwanted attention to the family from a multitude of reporters. Mal and his family would prefer to leave the past alone, so he is set to ignore them all. Then he meets Amy, a reporter from New York. He's not interested in being interviewed, but he is interested in her.
I liked both Mal and Amy. Each of them has some daddy issues that have affected the way they live their lives. Mal spends ten months out of the year out on trips, and refuses to commit to any relationship because he doesn't want to do to a woman what his father did to his mom. Amy's father has never really supported her in what she wants to do, so she figures if she gets this interview he'll have to finally show her some respect. When Mal and Amy met, there was instant chemistry between them, and not just physically. I loved seeing how easily they were able to talk to each other.
Amy really wants the interview, not just for herself but also because she senses it could do some good for Mal and his family. I loved her sensitivity to his feelings, that she didn't keep hammering away at him to get what she wants. I loved the way that she listens to his stories and draws out the good memories that he has. For herself, I really liked the way that she'd had the courage to go after what she wanted, even though it was outside her comfort zone. The glacier trip that Mal talked her into was a great example. I loved seeing her gain confidence in herself and her abilities and the way it showed through when Mal got hurt. I also loved seeing her feelings for him grow and how much she wanted to stay, even though she knew he wasn't looking for anything permanent.
Mal was ten when his father died and he saw how it affected his mother. He remembers how much his dad was gone and how hard it was on her. With as much time as he is gone and the dangers of the job, he won't do it to a woman of his own. Meeting Amy has put a strain on those intentions. The physical chemistry between them is strong, but she also makes him feel happy when he is with her. He starts out wary of her because of her job, but her sensitivity to his wishes wins him over. I loved seeing him open up to her about his feelings and memories of his father. Some of the things she says to him makes him look at his dad in a different way. I really enjoyed his support of Amy in her attempts to try new things. It was fun seeing him push her a little without trying to force her into things. While it wasn't good that Mal hurt himself, it was kind of amusing to see how it happened. I loved the confidence he showed in her ability to go for help. His insecurities came out when it was time for her to go, which caused heartache for them both. I loved seeing his brother talk sense into him.
The issue of recovering Mal's father's remains and his journal remains unresolved, so I expect that will be part of the future books. There also wasn't any more said about doing the interview, so maybe that will also be part of the future. I'm really looking forward to seeing how it all plays out.