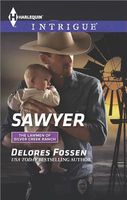 Series:
Lawmen of Silver Creek Ranch
(Book 8)
Sawyer Ryland would know her anywhere: the beautiful blonde who briefly shared his bed only to deceive him in the end. He vowed never to trust her again, but Cassidy O'Neal's on the run from kidnappers…with a newborn in her arms.
Cassidy will do anything to save her family, even flee to her ex-lover with an infant who isn't hers -- but who could belong to Sawyer. The lawman's fierce code of honor forces him to take Cassidy and the baby girl into protective custody. Now neither can fight the passion heating up between them. A passion that'll take every ounce of willpower to ignore and every effort to survive.
Action packed from the first page, this conclusion to the series was fantastic. When Cassidy shows up at his brother's wedding with a baby in her arms, Sawyer isn't sure what she's up to. They'd had one hot night together when he suspected she'd used him to get information on his investigation of her brother. Now she claims to be under orders from kidnappers who are threatening her brother's life. When someone starts shooting at them, he takes both of them under his protection while they try to find out just what is going on.
Cassidy has spent most of her life bailing her brother out of trouble. Now she's not sure if he's in trouble or behind it. She does know that Sawyer is doing everything he can to keep her and the baby safe. Even in the midst of the danger, the old attraction is still there, just as strong and getting stronger. She shouldn't give in to it, but it's taking more willpower than she has.
Sawyer is fighting the same battle. He knows the baby isn't his and Cassidy's, but the kidnappers seem to think she might be his with someone else. He can't rule it out quite yet. He does know that he will do everything in his power to keep her and the baby safe.
The action and suspense in the book is nonstop. The initial questions are who kidnapped Cassidy, Bennie and the baby and why. Once they are all free, who keeps trying to take them back, and again, why? Who are really the baby's parents? As frequently happens in a Fossen Intrigue, there are quite a few suspects and it's always interesting to see how they interact. My suspicions bounced around a lot as more people got involved and more information came out. There were quite a few twists and turns to the story before it was done.
It was interesting to see how those twists affected Cassidy and her relationships with Sawyer and her brother. Even though the book takes place over just a few days, the intensity of the action accelerates the development of the feelings between them. I loved seeing how the questions about the baby's paternity affected Sawyer. It was really sweet seeing him get all melty around her, especially since he had never seen himself as a father. As Cassidy learns more about her brother's activities she becomes less willing to make excuses for him and starts to see just how deep his problems are. I loved seeing her actions at the end.
It was great to see the involvement of all the Rylands in the story and catch up on what's happening with them. Naturally they all work well together and that teamwork brings a pretty quick end to the problems. It's not without a lot of danger and flying bullets, and really kept my heart pounding through most of the book. I also got quite a few chuckles out of the time at the main ranch house. Cassidy seemed pretty overwhelmed by all the kids and how all these tough guys are so good with them. Even Sawyer, which just added to her feelings for him. The ending was fantastic.