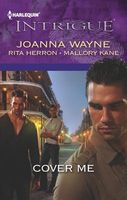 Eight years ago, in the wake of Hurricane Katrina, three men lost everything. Now it's time to reclaim what is theirs...
Bayou Payback by Joanna Wayne
Detective Remy Comeaux never got over the loss of his beloved fiancée. But when he returns to New Orleans to expose ongoing corruption and meets Nicole Worthington, something about this beauty seems all too familiar.
Good opening story. Remy is a former police officer and currently a PI. He has come back to New Orleans for the justice he still craves. He had been helping the FBI investigate corruption at the highest levels of the police force when he was arrested on bogus charges. He was in jail when the hurricane hit, and feels guilty he wasn't able to save his fiancée. Now he just needs a little more evidence to be able to take down the chief. The first night he's back he meets the chief's girlfriend, Nicole, and is immediately drawn to her. He can't stand the idea of her being caught up in what Lee is doing, so he warns her. The next day she offers to help him. He wants her to be safe, but he also wants to stay close to her.
Nicole has been dating Lee for awhile but despite his wishes she isn't ready to take the next step. When she meets Remy at a party in Lee's honor there's something about him that she can't resist. When Remy tells her of his suspicions about Lee, she feels she has to help discover the truth. She seems to have an instinctive trust of him. I loved her insistence on helping Remy. She has quite a level head and is definitely an asset to his investigation.
Though the story was very short, it was still quite intense. The tension of Remy's first confrontation with Lee just escalated as he got more evidence. The fear of their discovery kept me on the edge of my seat as they searched Lee's house. The final confrontation had quite an interesting twist to it as Remy arrives just in time to save Nicole.
Bayou Jeopardy by Rita Herron
He lost his job and the love of his life when the storm hit, but Mack Rivet never gave up searching for answers. His passionate reunion with Lily Landry forces him to confront what really happened that fateful night. And then he learns about the son he never knew existed...
When Mack hears that the police chief who set him has been arrested he heads back to New Orleans to try to clear his name. As he begins his investigation he is stunned to discover that his wife and son did not die during the hurricane as her father told him. He is more determined than ever to get the answers so that they can have a life together.
Lily was told that Mack had died when the jail flooded. She didn't want to believe the charges against him but the evidence was overwhelming. She has never stopped loving him and is reminded of him every day when she looks at their son. When Mack shows up at her house and tells her that her father lied to both of them she doesn't know what to think.
Mack is determined to find out the truth, but it's looking more and more like Lily's dad is involved in more than just lying to them. And when he starts getting too close to the truth, Lily and his son are kidnapped to use as leverage against him. There are a couple of very interesting twists in the resolution of this one and the journey to a happy ending for Mack, Lily and Winston.
Bayou Justice by Mallory Kane
In order to bring justice back to New Orleans, FBI agent Ray Storm must once again turn to Molly Hennessey for help. This time, though, convincing the gorgeous attorney to believe in him is going to take more than just one night of seduction.
Having finished a four year undercover operation, Ray has taken some time off to come back to New Orleans and finish what he'd started eight years ago. Thanks to the two police officers he'd worked with then, some of the high level corruption has been stopped. But there's one more player and Ray is determined to take him down. In order to do so, he's going to have to ask Molly for her help again and he figures that's going to be a hard sell. Eight years ago he had gotten closer to her than he should have and then disappeared when he was pulled out right before Katrina.
Just as he's about to make contact with her, Ray notices she's being followed, but the man takes off before Ray can stop him. Molly wants nothing to do with him, still feeling betrayed by what had happened before. She also feels guilty for helping Ray get evidence against her brother. Now that he's running for governor she hopes he's stopped his illegal activities, but she still has copies of the evidence from years before.
When she is attacked and the papers stolen, she and Ray realize that the danger isn't over and someone wants to make sure that the evidence disappears. Ray's protective instincts kick in and stays with Molly to keep her safe. It puts a strain on his good intentions to be that close to her, and those intentions fall by the wayside as their attraction kicks back up. A heart attack and an overzealous campaign manager create a couple interesting twists to the conclusion of the mystery. Then Ray and Molly have to decide just what kind of a future they can have and if they can have it together.