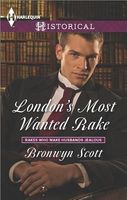 Series:
Rakes Who Make Husbands Jealous
(Book 4)
"Channing Deveril -- a new woman every night. You're worried about scandals? You are a scandal!"
Rumor has it that Channing Deveril, founder of The League of Discreet Gentlemen, is tired of warming women's beds. But when he encounters the alluring Alina Marliss, the stage is set for his most ambitious assignment yet….
Alina is accustomed to teetering on the edge of scandal, so Channing's skillful seduction is a complication she definitely doesn't need! She might crave his expert touch, but she has no intention of losing her head -- much less her heart -- over London's most notorious rake!
I had a hard time really liking either of the main characters. Channing and Alina had first met seven years ago. She was recently married to a French comte who was very controlling, but she had a fair amount of freedom when he wasn't around. Channing had come to Paris on business for his father. Alina and Channing spent a lot of time together and fell in love. Channing wanted her to run away with him, but when her husband returned he threatened her family and Channing if she did so. So she pretended that Channing meant nothing to her and sent him away brokenhearted and furious.
Channing returned to England and started the League of Discreet Gentlemen, an escort service for society women. He considered it a way to protect young men like him from society women who would use them with no regard to their feelings. After seven years he's getting tired of the meaningless sex, but isn't sure what he wants to do.
Alina has returned to England after the death of her husband. She wants to get back into society so that she can later help her younger sister find a good husband. She is also looking for revenge on a man who swindled her father out of some land. She has hired a member of the League to help her, but it is Channing who turns up instead. The attraction between them is still hot, but they have a lot of issues between them that make a future problematic.
The physical connection between Channing and Alina is very strong, but the rest of the time they seem to be more intent on manipulating each other to get what they want. It wasn't until near the end that they actually started talking to each other and they learned things that changed their minds about what the other had done. I did like Channing's protectiveness toward Alina when he learned of her revenge plans, and how he was determined to help her. I also liked seeing him change from the man-whore into a a man who might actually be worth knowing.
I felt bad for Alina with what she had to put up with during her marriage, but really got irritated with her attempts to manipulate Channing. Now that there was nothing to keep them apart if they had just talked to each other honestly a lot of the heartache could have been prevented. She fell in love with Channing but felt she was no good for him because of her past.
I enjoyed seeing Nick and Jocelyn and their wives. It was fun to see them help Channing in the same way that he helped them. I liked seeing the ladies have fun together. I expect that there will be some great get togethers in their futures.