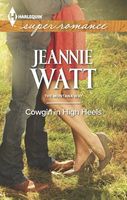 Series:
Montana Way
(Book 2)
Her luck's changing for the better…right?
Making the tough decisions has always been easy for big-city human-resources specialist Ellison Hunter…until a surprise pregnancy changes everything. Now it's her life that needs major reorganization. Putting her personnel expertise to use on her family's Montana ranch is the perfect escape -- even if it means contending with ace rancher Ryan Madison.
His stubborn pride and loyalty to the staff? Those she can handle. But his sexy grin, cowboy charm and instinct to protect her and her baby catch her off guard. As attraction spins into something more, Ellie finds herself even further out of her element. But maybe, with Ryan, she's exactly where she belongs.
Good book. Ellie is going through some major life changes. She's been working as a human resources specialist in the city, until she finds herself pregnant. As the father is a loser who lied to her and then became her boss, she decides it's time to reassess her goals. Her uncle offers her the opportunity to use her skills on the ranch he just bought, to see if the people running it need to be replaced.
Ellie's first days on the ranch are pretty rough. She's so far out of her comfort zone she's not even in the same zip code. She definitely gets the feeling that she and her relatives are not the most popular people with the residents. But she figures that employees are employees no matter where they work, so it should be pretty easy to do. She soon learns that it isn't as simple as she thought when the ranch manager challenges her to learn what it takes to run the ranch.
Ryan has been working hard the last several years as the one running the main part of the ranch. His mentor, now the previous owner, takes care of the cattle breeding side. Due to a series of problems, Walt got into financial problems and had to sell the ranch and isn't taking it well, leaving Ryan to try to smooth things over. At first, Ryan and Ellie butt heads over almost everything. But there's something about Ellie that gets to Ryan and he soon finds a way to spend time with her.
I loved seeing Ryan challenge Ellie to look at the ranch a different way. He was sure that if he could get her to see the crew as people rather than just employees he could get her on their side. He also discovered that he actually liked her, which didn't do much to help him resist the attraction he felt for her. I really enjoyed seeing the way he got her involved in the ranch activities.
Ellie starts to be very conflicted. The more she gets involved in the ranch, the more she sees Ryan's point of view regarding the people. This puts her at odds with the ranch "consultant" that her uncle hired. I loved the way that Ellie's entire outlook changed as she got closer to Ryan and the others. There were some pretty funny moments as she dealt with everything from the house snake to Walt's surliness to the less than pleasant consultant. I loved seeing her take on both the consultant and Walt and use her talents for the best outcome.
Ellie also has to deal with her growing feelings for Ryan. She'd love to see where things go with him, but she also has a few issues of her own she has to deal with. Thanks to an unconventional childhood she has a deep seated need for a sense of security and to retain her independence. For her, this means a regular job with a steady paycheck and proper benefits, neither of which can be found on the isolated ranch. Her struggles were at times painful to watch, but her final decision was very satisfying.
Ryan had a few things of his own to overcome. He was the son of a single mother who had to deal with the fact that his father had never acknowledged him or been part of his life. He felt a great deal of resentment, especially on his mother's behalf. There was also a professional rodeo rivalry with his half brother that added to his stress. There were some really interesting conflicts and resolutions among the three of them. He also wanted to make sure that Walt wasn't fired from his position at the ranch, and trying to keep that from happening created some interesting situations. When Ryan's feelings for Ellie deepened he was ready to have it all, but convincing her was another matter entirely.