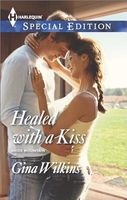 Series:
Bride Mountain
(Book 3)
Meeting the right person changes everything…
Handsome. Intense. Arrogant. There are many words people use to describe Logan Carmichael, but romantic is not one of them. Even he can see the irony that he has become co-owner of the Bride Mountain Inn! Years of sorry experience have convinced him that he is not cut out for love or marriage. Until he falls -- hard -- for the one woman who is determined to stay just out of his reach…
Alexis Mosley might be the only wedding planner in the world who doesn't truly believe in happily-ever-after. Not when she's seen how quickly and easily love can fade. She tells herself that she and Logan can just be "friends with benefits" -- and nothing more. But as she surrenders herself to his embrace each night, she begins to wonder if there might be a fairy-tale ending in store for her after all…
Wonderful conclusion to the Bride Mountain trilogy, this time it's Logan's turn to find love. Logan is the gruff, blunt groundskeeper of the inn that he and his sisters own. He's the one that has to execute some of the crazy ideas that bride's come up with. While he agrees that lasting love is possible for some people, thanks to his own experiences he's sure it isn't in his own future. He has been secretly spending a lot of time with Alexis, the event planner who frequently works with his sisters. Alexis also doesn't believe in happily ever after, so she's more than happy to have her quiet fling with Logan. They keep their semi-relationship quiet, not wanting to deal with expectations and pressure from other people.
I liked both Logan and Alexis, and found their attempts to keep their relationship quiet amusing. They started out just going for a physical relationship, but over time it began to evolve. They seemed to be unaware of those changes for the first part of the book. Then, as they did start to notice, the fears crept in. Alexis invited Logan to join her in Seattle when she went for a conference, then panicked because she was afraid he was starting to mean too much to her. Alexis is the product of a marriage that went through a very messy divorce, then saw both parents and her brother continue the pattern of bad marriages. Added to a bad breakup of her own, she has lost her ability to believe that love can last. I loved seeing her slowly let Logan in, admitting to herself that she looked forward to seeing him and missed him when she didn't see him for awhile. Logan has been a loner since college. He discovered then that family were the only people he could truly count on to be there for him, and it was reinforced when his business partner betrayed him. Now he has the inn, his sisters and his dog, plus his occasional visits with Alexis. He is surprised by her invitation to Seattle and spends quite a bit of time trying to make up his mind whether to go.
Their time in Seattle was a big step as they got to know more about each other. I loved seeing them have fun with their sightseeing, but also delve more deeply into what has made them who they are. Both of them had uneasy moments when they realized that things were changing, but each one tried to shove those thoughts aside and go back to their old way of doing things. The strain of that started to show as both started having thoughts of the future. I loved how it was Logan's encounter with a groom that got him really thinking, when the man said "I figure I've been given a second chance. I'm not going to mess it up."
The resolution of their differences and overcoming of their fears made this a very satisfying story to read. I also loved the parts that her cat and his dog played throughout, and especially the dog's part at the end. That critter was a lot smarter than his people!