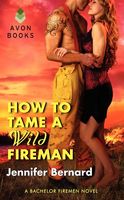 Series:
Bachelor Firemen
(Book 4)
The Bachelor Firemen of San Gabriel have a rebel among them, and there's only one woman who can put his flames out.
Firefighter Patrick "Psycho" Callahan earns his nickname every day. Fast, fit, and a furious worker, he thrives on the danger which helps him forget a near-tragedy that changed his life forever. But when his off-duty carousing gets out of hand, Patrick is sent back to Loveless, Nevada, where the wildfire threatening his hometown has nothing on sizzling Dr. Lara Nelson.
Lara would rather be thought of as the physician who returned to Loveless than as the misfit brought up at a hippie New Age commune. But right now she's focused on the job at hand, patching up injured firemen . . . until the past hits her in the hard-muscled, blue-eyed form of Patrick Callahan. Now, the embers of their decade-old attraction have ignited into a full-on inferno, as the bad-boy firefighter and the good doctor take a walk on the wild side they'll never forget.
Loved it. Patrick is one of the Bachelor Firemen who is also one of the most intense. He works hard and he plays hard. But when some of his off-duty antics tick off his boss, he gets sent to Nevada to help fight the wildfires there. Back in his hometown, he has no intention of getting in touch with his family, who kicked him out ten years ago. He is stunned to see Lara Nelson, his brother's best friend, who he'd been attracted to back then. Lara had returned to Loveless to decide what to do with the property she'd inherited. As a doctor, she's been roped into helping treat injured firefighters. She never expected to see Patrick there or feel an out of control attraction to him.
I loved both Patrick and Lara. Patrick has earned his nickname of "Psycho" because of the risks he takes both on and off the job. While he appears to simply enjoy the rush, it's really a way for him to escape his memories. Ten years earlier he and his younger brother, who is deaf and mildly autistic, were involved in an accident that Patrick feels he was responsible for. His father felt the same and kicked Patrick out of the house and the family. Patrick's years as a firefighter have been one way that he attempts to atone for his mistakes. Helping with the wildfires in Loveless is another way. He doesn't plan to contact his family at all, but that ends when he is spotted by both Lara and his younger sister. I loved seeing the different sides to Patrick that come out in this book. He is the protective older brother, who wants to help his little sister. He is also still fighting the guilty feelings over the accident that injured his brother. That brother has left home and Patrick is desperate to find him and talk to him. There is also the son who cares about his parents, in spite of how they treated him, and how he takes his own time to make their home fire safe. I loved the sweet side of him that came out with his rescue of the llama and how the critter loves him so much. And then there's the sexy firefighter who is so attracted to Lara that he can hardly see straight. What was really fun was seeing him get to know Lara the woman and realize that she was more than just a woman to sleep with. He has his moments of male idiocy, but he also has times when he is very sensitive to her needs. I loved seeing him begin to think of a future with her and trying to figure out how to make it happen. I also loved the way that Lara makes him think about things that happened in the past and start to look at them from a different angle. I also loved his reunion with his brother and his acceptance of all the changes they have both endured.
Lara had spent her teen years in Loveless, taken in by her aunt after her parents' deaths. She spent those years feeling ashamed of the place, embarrassed by the purpose of her aunt's business. She endured a lot of teasing and prejudice from her classmates, her only friend being Patrick's brother Liam. She never understood his family's actions after the accident, but put it mostly out of her mind after she left to go to college. She avoided going back to Loveless, wanting to put that whole time behind her. When her aunt died and left the property to her, she planned to go back, sell it, and return to California. When she arrived in Loveless she ended up putting her medical knowledge to use helping to treat the firefighters. She also discovered that selling the property wouldn't be easy, and that she cared too much about her aunt's friends to just kick them out. She was surprised to see Patrick back in Loveless and discovered that the faint attraction she had felt as a teenager has become as big a fire as the one the firefighters are battling. She's never felt anything like it before and had assumed that she was one of those people who just never got into the whole passion thing. I loved seeing the effect that Patrick had on her. She also got to know him better and saw how he used his reputation to run from his feelings about the accident. I loved the way that she made him take a fresh look at the events of that night. She also doesn't just sit back and put up with the things that he says or does and has no problem letting him have it when she's mad at him. She has a tendency to say some mean things when she's mad, but has the heart to apologize when she calms down. I liked seeing her start to take a look at her own life and choices and see where she wants her life to go. I loved her support of her friend Liam in his current choices, and the way that she brought about his reunion with Patrick.
The romance between Patrick and Lara had some interesting ups and downs. They went from being just in it for the physical, knowing that they would only be in Loveless for a short time, to trying to figure out a way for them to be together more. Patrick slowly came to realize that he is capable of a real relationship with Lara, but had trouble trying to put his feelings into words. Lara's evolving from a rather passionless scientific type to the wild woman she is around Patrick was fun to see. She had to make the jump to trusting her feelings and following her heart. I loved seeing them get to know each other as they are now. The final resolution of their lives together was great.
The secondary story of Patrick's family and the things they were going through was really good. It gave an excellent insight to how Patrick ended up where he did and why. It also showed Patrick in a good light as he made sure his parents' house was safe, in spite of the way his father was acting. There was a lot of maturing on Patrick's part, as he went from his old way of trying to anger his dad to actually trying to get along with him and protect him.
I also really enjoyed the part that the "Goddesses" played. It started out with them seeming like really odd hippie-type people, but got a lot more grounded the more I saw of them. Their love for Lara was obvious in the way they had tried to take care of her as a teen, and how they want her to do what's right for her now. I enjoyed all their comments about the firefighters as they were helping out at the command center, and later when Vader came to help Patrick with the repairs. It was fun to see them help Lara see herself differently.