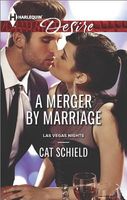 Series:
Las Vegas Nights
(Book 2)
It takes two tycoons to tango…
With JT Stone's birthright hanging in the balance, Violet Fontaine comes up with the perfect solution. The Vegas hotel heiress decides to give her sexy business rival a hand -- so he can put a ring on it and seal a business deal. The one condition is that they keep their boardroom marriage out of the bedroom….
Fat chance! JT isn't letting Violet deprive him of one of the sweetest perks of wedlock. But will giving in to passion expose the one thing that's always kept him from commitment? Now JT could lose everything, including the woman he can't live without.
Very good story of family secrets, trust and love. After her like-a-father-to-her mentor died, Violet received an inheritance that could help her rival JT Stone. It came with some conditions that limited her options but she felt like she had come up with the best solution. JT has discovered that the family company that his father runs is in deep trouble. He'd like to take it over but he doesn't have enough shares to vote his father out.
Violet comes to him with a proposition. Tiberius had acquired eighteen percent of the shares of the company and left them to Violet. She can't sell them, give them away or vote them because she's not family. If she and JT marry, she becomes family and with his thirty percent they are closer to getting control. JT would just need another three percent. She offers JT a business marriage so they can try to make it happen.
JT has been attracted to Violet since he met her. With the bad blood between his father and his uncle Tiberius, JT had never had the chance to get to know him well before his death and had missed out on the chance to get to know Violet through him. Now he spends a lot of time in Violet's casino, watching her and getting what little bit of time with her he can manage. He is surprised by her offer but sees the advantages. One advantage he sees is the opportunity to get her into his bed, if he can just get past her reservations. He also has some reservations of his own. Thanks to a really crummy childhood, JT keeps very tight control over his emotions. He also doesn't let anyone close enough to learn about what his past was truly like. He finds that spending time with Violet is loosening some of that tight grip and that he wants to share some things with her.
Violet is equally attracted to JT but hides it just as well. Helping him gives her the chance to get closer to him. She likes what she sees, but she is cautious about getting involved with him. She knows that if she lets herself go she is likely to fall in love with him and that could only lead to heartache for her. She has also come across some information that could rock his world completely and she has to decide what to do with it.
I loved Violet and JT together. Violet is a pretty uncomplicated person. She sees a way to help JT and wants to run with it. There is so much heat between them that you know the business only side of the marriage isn't going to last. She also sees how hard he tries to protect himself and really wants to show him that trusting her isn't a bad thing. She knows that she can help him get what he needs and gets very frustrated with the way he shuts her out. I loved seeing her keep trying. JT wants Violet so much he can hardly stand it. He's managed to keep it from her for awhile, but now that they're together so much he's losing the battle. His growing need for her scares him because he's never let anyone get that close and he's afraid of what could happen if he really lets her in. When he discovers that Violet had access to some information about him, he feels betrayed which leads to a heartbreaking confrontation between them.
JT's father is a real piece of work. Violet gets a taste of it when he comes to Las Vegas and confronts her about her marriage to JT. He makes some pretty nasty threats that end up pushing Violet and JT closer together. The information that Violet has about him makes JT question a lot of things about his father, but he's not sure what he should do with it. I loved seeing everything that happened at the shareholders' meeting. There were a couple nice twists that came out of it. Even better was seeing JT finally open himself up to Violet's love.