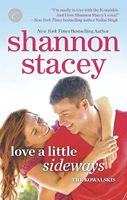 Series:
Kowalski
(Book 7)
Liz Kowalski is heading home to Whitford, Maine -- this time for good. Eager for her family, a fresh start and some fun, she doesn't count on being rescued by the chief of police her very first night back in town. Drew is everything she's not looking for…so why is she still so attracted to him?
After a brief, forbidden rendezvous at her brother's wedding, Drew Miller expects Liz to return to New Mexico and stay there. He's searching for someone to settle down with, not a casual fling with his best friend's sister. But when they're stuck together on the annual Kowalski camping trip, things start going a little sideways. Keeping their hands off each other proves just as impossible as keeping their secret from becoming public knowledge.
Amid family, mud and melted marshmallow, Liz and Drew try to fight what's growing between them. But a little time alone, a lot of chemistry and too many opinions might be just what it takes to bring together two people so determined not to fall in love.
Very good book. I was happy to see Liz get her story since she's been the invisible Kowalski through the other books. She and Drew had that brief encounter at Mitch's wedding, but then she went back to New Mexico. We got a little bit more of her at the end of the last book when Josh stopped to see her on his trip. At that point I was really hoping she'd come home and get together again with Drew.
Liz has finally dumped her lazy boyfriend and realizes she really misses her family. So she leaves everything behind and comes home to start over. The problem is, she's not really sure what she wants. She looks at her brothers and feels like she should be doing something more than she is. They are all successful and happy and she's still waiting tables. She doesn't expect to run into Drew on her way into town, and discover that the sparks between them are as hot as they were before.
On the other hand, Drew knows exactly what he wants. He and his wife had divorced when she confessed to him that she didn't want kids and never had. Now he's looking for a woman who wants the same things he does. But it's a little hard to look for that woman when he can't get Liz off his mind. He's got a couple problems with that fascination. He knows she's not in the same place he is. Plus, she's his best friend's little sister and there are rules about that. So he does his best to resist the attraction, but it isn't easy.
Then comes the Kowalski family reunion camping trip. With his dad now with Rose, that makes Drew part of the family too. Being in close proximity all day every day puts a strain on their resistance, and it isn't long before their secret is out. Now that they're able to spend time together openly, each of them has to decide just what they want out of their relationship.
I really liked both Drew and Liz, though I did get a little frustrated with both. I thought Drew was a little too focused on his desire for a family, to the point where he almost lost Liz completely. I also got a little ticked at the way he was trying to keep the relationship from Mitch. He should have manned up and talked to him from the beginning. As he admitted to himself that Liz was the one he wanted, he made the mistake of moving too fast, and he knew that he was moving too fast. But he can also be wonderfully sweet and romantic. On the other hand, Liz seemed to be stuck in neutral. She was enjoying being with Drew, but she didn't want to think too far in the future. She knows what he wants, but she's still trying to figure out what she wants to do. She's moving in the direction that Drew wants, but she's afraid he's moving too fast and she's not quite ready for the commitment that he's looking for. She also wants to be wanted for herself first and foremost, not her ability to give Drew the family he wants. Both of them had to face up to their mistakes before they could get to the future they both wanted. I liked seeing Mitch be there for Drew, even though it was a little awkward for him.
One of my favorite parts of the book was the camping trip. I loved seeing all the Kowalskis together and the fun that they all had together. All the activities OF DOOM were great and showed what a wonderfully close family they were. I got a real kick out of the Scrabble game and the commentary from the guys as they listened to all the laughter coming from the women. I loved seeing Drew and Liz try to keep a lid on their feelings, but that just increased the pressure they were under. As much as the confrontation with Mitch sucked, there were parts of it that were pretty funny. I loved Liz and the spoon, and the way she tried to make Mitch see sense. I was happy to see everything finally out in the open.