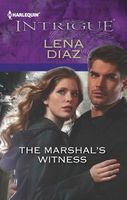 EVERYONE HAS SECRETS. HERS MAY GET THEM KILLED.
Breaking protocol and going on the run with a protected witness wasn't in U.S. Marshal Ryan Jackson's plans. And even though Jessica Delaney's testimony nearly put away a crime boss, Ryan can't afford to trust her. Still, the duty-dedicated marshal will do whatever it takes to protect Jessica and uncover the mole leaking her new identity. But staying seconds ahead of the ruthless killers on their trail is easier than keeping himself safe from Jessica's unexpected vulnerability and irresistible determination. Now, as the net around them tightens, Ryan's deepest loss may be the one danger he never anticipated.
Very good book with plenty of action and suspense, making it very hard to put down. Jessica has been in Witness Protection for a year as she prepares for and then testifies against her former boss. Unfortunately, his trial ends up in a mistrial, putting her in further danger, and sending her into Witness Security with a new name and location. Ryan is one of the marshals assigned to protect her, and the only one to survive an explosion the last day of the trial. When she is relocated yet again, Ryan is with her for added protection until she is settled. He's not happy about it as he considers her just slightly less of a criminal than her boss, since she was his accountant for years. Jessica isn't any too fond of him either, as she can see his contempt for her.
When someone tries to kill them both the first night in the new location, Ryan realizes there must be a leak in the program. He takes Jessica on the run in the mountains as he tries to protect her from those who are after them. As they make their way through the woods, he is impressed by her determination. He also finds himself attracted to her in spite of what he believes she has done. Ryan's feelings start to change as he learns more about her and what really happened. His protectiveness becomes more than just part of his job.
Jessica's early life was spent going from one foster home to the next, teaching her to depend only on herself. The accounting job she got right out of college was a good one, until she discovered that there were some shady things going on. It took awhile but she was able to get evidence to the FBI, but not until she saw her best friend murdered. She's fine with going into WitSec, but dealing with the judgmental Ryan isn't pleasant. When he saves her life again and they have to go on the run, she is forced to trust him.
I loved the interactions between them as they made their way through the mountains. Ryan is used to being obeyed without question and is frustrated by Jessica's constant questioning of him. Jessica is an intelligent woman and refuses to put up with being left out of the loop. I loved seeing the attraction between them develop in spite of their resistance. I also liked seeing them getting to know each other and discovering that their initial judgments may not have been entirely accurate. Ryan slowly lets go of his distrust, but is still resisting his feelings toward her. He knows she'll be going back into hiding and he can't go with her without giving up everything important to him. I liked seeing Jessica get Ryan to open up to her about things that happened in his past. She also saw how important his family is to him which only made her care more about him. I loved seeing her stand up to him when she thought he was disregarding something important. Her growing feelings for him cause her to make a few reckless decisions in an attempt to help him, but they turn out ok. By the time the end of the book comes she knows she loves him, but doesn't expect him to give up everything for someone like her. I really liked the ending.
The suspense and action itself was fantastic. Ryan's determination to keep Jessica safe is solid. He is also set on finding out who it is that has been leaking the information that has put them in danger. It seems like they just can't get ahead of it. There were several twists and turns to get them to safety and finding out who the bad guy was. I did figure it out before the end, but it was still very well done. The final confrontation was intense, but also had a couple light moments in it.