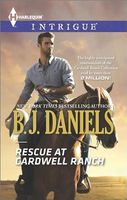 Series:
Cardwell Cousins
(Book 1)
Saving her once was risky. Rescuing her again may be fatal.
When Hayes Cardwell arrived in Big Sky, Montana, for his brother's wedding, the Texas P.I. didn't expect to play hero. But ever since he saved her from a brutal abductor, he can't get McKenzie Sheldon out of his mind and heart. As passion blindsides him, Hayes vows to protect the beautiful business owner from once again becoming the target of a killer intent on finishing the job.
McKenzie was drawn to Hayes from the moment she awoke and saw the tall, dark cowboy who'd rushed to her rescue like some Western fantasy. With his lean, sexy looks and fierce protective instincts, the gun-shy bachelor is already lassoing her heart. But can he protect her from a danger that's much closer than they think...a killer hiding in plain sight who's about to spring a final trap?
I could not put this down. McKenzie is a strong, independent woman who is devoted to her job as a realtor. She works long hours, and found herself doing some grocery shopping late one evening. As she came out of the grocery store she was attacked and nearly abducted by a serial killer. The only thing that saves her is that Hayes came out of the same store right after she did. As a P.I. he is used to quick thinking and action and because of it was able to get her away from her attacker.
Hayes is in Big Sky for his brother's wedding. He's also there to talk his brother out of trying to open a branch of their family's restaurants in Montana. Discovering that McKenzie is the real estate agent helping his brother reinforces that he hasn't been able to get her off his mind since the attack. When it appears that the killer is planning to finish what he started Hayes is determined to keep her safe. He doesn't have it easy because McKenzie is so independent she doesn't like accepting help from anyone. I liked that he didn't really give her the option of refusing. I also enjoyed seeing him try to understand what he was feeling. There's something about being with her that makes him happy in a way he's never felt before. I loved seeing him get closer to her as he tried to keep her safe at the Cardwell ranch. But he also can't see how anything can come of it with his work in Texas and hers in Montana.
McKenzie is the youngest of nine kids and has always been very independent and very driven. She is very thankful for Hayes's quick action that saved her life. There is something about him that makes her feel very safe. She is also immensely attracted to him, but with the strain of being in danger doesn't want to make any impulsive decisions. I loved seeing her allow herself to lean on him while still trying to preserve her independence.
The suspense of the story as McKenzie is being stalked is very intense. From the first chapter where we see him watching her to the final confrontation the danger just keeps building. I enjoyed the glimpses into his thoughts and actions as they added to the clues of trying to figure out who he was. There were several possibilities and it wasn't until just before the big reveal that I thought I had a handle on who it was. I loved the fact that McKenzie wasn't going to make it easy for him, which made it possible for Hayes to be in time. I do wonder if the visitor to McKenzie's hospital room is going to appear in a later book.
I always enjoy seeing previous characters show up in current books. I loved seeing Dana open her ranch and her heart to McKenzie when Hayes brought her there as a safe place to stay. It's easy to see how much her family means to her and how getting to know the cousins is important to her. I also liked seeing Tag from
Christmas at Cardwell Ranch
showing his brother how important love is. It was great to see the somewhat cynical Latimer is the one who straightens him out. I'm also looking forward to Jackson's story.