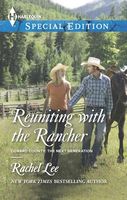 Series:
Conard County: The Next Generation
(Book 18)
"I love you."
Ten years ago rancher Cliff Martin said those three little words to Holly Heflin. But all she said was "goodbye." She ran from Conard County fast as a jackrabbit, leaving Cliff with a broken heart. But Cliff never forgot the one that got away….
Now Holly has returned to settle her aunt's estate -- and Cliff is the executor. Her matchmaking aunt and his jealous ex-wife are the least of Holly's problems. Everywhere there are memories…and Cliff. But he's still a small-town rancher with roots and she's a big-city girl with a ticket home. She's got two weeks to avoid the hunky cowboy….
But what if she can't?
Ten years ago Holly and Cliff had a hot and heavy summer romance. But Holly had made no secret of the fact that she had plans for her future that didn't include staying in Conard County, and in spite of Cliff's confession of love she left. Ten years later Cliff is still angry, but he has to deal with Holly as she has returned to deal with her aunt's property.
Holly made her dream come true. She is a social worker in some of the poorest areas of Chicago, where she feels she can make a difference to children in need. Returning to Conard County, though, makes her realize just how much stress she has been under. In the peace and quiet of her aunt's ranch she can feel the tension that she's been under start to unwind - only to be replaced by a different kind of tension. Being near Cliff again brings the old attraction back, but she's still due to leave in just a couple weeks.
I really liked seeing Cliff and Holly have to face their pasts and deal with those memories. Cliff had been harboring a lot of anger and hurt for a long time, blaming Holly for breaking his heart. When he saw her again he tried to hold on to that anger, but he found that the attraction was still there. Then he began to notice the changes in her, and found himself worried. The girl who had been so passionate about her plans and him seemed to have become a pale imitation, and he discovered a need to help her. I liked the way that he talked to her and admitted that he finally realized that some of the problem had been his refusal to accept that she wasn't going to change her plans back then. I liked seeing him start to get to know the new Holly and listen when she talked about her work. I also loved the way he tried to help her cope with her feelings about going back to work and the idea he came up with that might solve her problem.
Holly was shocked by the conditions of her aunt's will and wasn't sure how she was going to handle having to deal with Cliff. She's still attracted to him, but her plans haven't changed so there's no sense in her giving in to it. Ten years after their romance ended, she's still ashamed of how she had treated him. When she works up the courage to apologize, she's surprised when he forgives her and admits that it was probably the only way that she could have handled it. Having made their peace it opens the door for them to spend some time together and get to know each other all over again. Holly is fighting a serious case of burnout and discovers that life in Conard County now is far more appealing to her than it had been before. When Cliff comes up with an idea of how she can do the work she loves without the stress she hates, Holly starts to rediscover her passion both for her work and for Cliff.
That isn't to say there aren't still problems they have to face. Cliff is confronted with the return of his manipulative ex-wife. She had made his life miserable when they were married and now she wants to move back in with him while she's between jobs. When he is less than welcoming she convinces Holly to let her stay at her house, before Cliff is able to fill Holly in on what Lisa is like. Cliff was really afraid that she was going to cause major problems, and was surprised when Holly laughed at his worries. Holly's ability to deal with Lisa's "small potatoes" attempts was fun to watch, because Holly was used to much worse in the city. Things go very well for them until some of Holly's insecurities come out and things nearly fall apart. In spite of some harsh words, ten additional years of maturity go a long way toward helping them work things out. I loved the way the story ended.