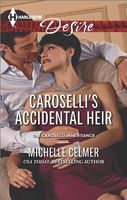 Series:
Caroselli Inheritance
(Book 3)
Stop the wedding -- she's pregnant!
When Lucy Bates caught herself falling too hard for Chicago businessman Tony Caroselli, she ran. How could she measure up to his wealthy family's standards? But now she's pregnant and back to tell the truth…only to see Tony marrying another woman before her very eyes!
Lucy always had impeccable timing -- especially interrupting a wedding Tony never wanted. And if she produces a male heir, Tony stands to inherit a fortune. Plus, the real payoff is having Lucy back where she belongs -- with him. But when she finds out about his inheritance, will she feel like a pawn and run again?
My favorite book of the series. It all started when the Caroselli grandfather, Nonno, was afraid that his grandsons would never marry and have kids. So he decided to motivate them by offering millions to the first one to marry and provide an heir. In the first two books
Rob
and
Nick
made their runs for the prize, but end up choosing love over money (of course) after learning what is most important. In this book, Tony and Lucy had been together, sort of, for about a year when Lucy suddenly left with no explanation. She and Tony had had a friends with benefits thing going on but kept it private between the two of them. Tony is sad and misses her but never went after her because she had made it clear that there would never be anything more between them. He had never been much interested in relationships either until his grandfather's challenge. But Tony has plans for his future and that money would be useful, so he enters into a business arrangement with another woman, which is where this book starts.
Lucy had left Chicago because she realized that she had fallen in love with Tony. Because of her horrible childhood she knew that she was not a suitable candidate for a wife and thought it would be better to leave. She knew she was pregnant and that he would insist on marriage and she didn't want to ruin his life. But when she receives a letter telling her of his upcoming marriage she knows she has to tell him of the baby before he marries. She didn't expect to show up just as the wedding began.
Tony was actually relieved at Lucy's appearance. He had realized almost immediately that marrying that other woman was going to be a huge mistake, but he couldn't figure out how to get out of it. Lucy's arrival took care of the problem for him. He had missed her so much that all he wanted to do was hang on to her. She had been the only person that he ever felt he could talk to about what he really wanted out of his life. He couldn't believe that she was planning to leave again once she told him. I loved seeing him work to get her to agree to stay and let him take care of her.
I found Tony to be absolutely adorable. He wasn't arrogant or conniving, in fact he was pretty darn clueless. He has a terrible habit of putting his foot in his mouth because he doesn't always think before he speaks. But his heart is definitely in the right place and it shows with everything he tries to do for Lucy. Tony also gets frustrated with his big Italian family because he feels like they are always interfering in his life. I loved seeing first his mother, then his grandfather, take Lucy to their hearts, especially because they and the rest of the family had hated that other woman. Tony was so afraid of driving Lucy away, because of their earlier friendship only pact, that he never told her how much his feelings for her had changed.
Lucy was a young woman with terrible self-esteem issues. Her mother is a self-centered drug and alcohol addict that made Lucy's life miserable. Because of it, Lucy feels that she is nowhere near worthy enough to have any expectation of a life with Tony. She was so in love with him that she couldn't stand the idea of bringing trouble to him, which is why she left. But guilt brought her back so that she could tell him about the baby. She couldn't believe he wasn't angry with her. Those same guilty feelings made her agree to stay in Chicago so he could look after her, but she still cared too much about him to say yes to marrying him. He had made it clear before that he didn't do relationships and she didn't want to be an obligation.
I loved Tony's family. Lucy was so sure that they would all hate her that she was completely surprised when his mom showed up that first morning and was so nice to her. It was really great to see Sarah tell her about her own experiences as a newlywed. I also liked the way that she fussed at Tony about his own actions. I also adored Nonno and how sweet he was to Lucy. There were some really fun moments during family get togethers.
The conclusion of the story was wonderful. There had been some drama when Lucy found out about the money, but it was pretty quickly resolved. I loved the way that Tony resolved Lucy's fears. There were also a couple of very interesting twists to the end that had me grinning.