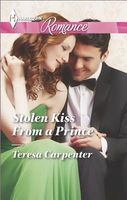 When royal duty calls…
Charged with the care of the newly orphaned heir to the Kardana throne, nanny Katrina Vicente finds herself faced with an even more formidable task -- working alongside the boy's uncle, the devastatingly handsome Prince Julian, the prince regent.
Desperate to keep the secrets of her past under lock and key, getting involved with a prince is the last thing Katrina needs, particularly with the world watching. But it's hard to ignore their instant chemistry -- especially after one stolen kiss! Could her royal assignment be about to transform into the most magical of fairy tales?
Very emotional book. Katrina is the nanny for her godfather's children and is helping to care for a visiting child. When his parents disappear in a storm, his uncle Julian comes to get him and take him home to Kardana. Young Sammy isn't handling it well and Julian is out of his depth so he asks Katrina to come along and help. Katrina is drawn to Julian but needs to keep her distance. She has things in her past that could come back to haunt her.
I really liked both Katrina and Julian. Katrina is a caring and compassionate young woman. She is fiercely protective of Sammy and has no problem standing up for what she feels is right. She is also protective of others she loves, and tries to stay out of the public eye because of mistakes she made in her past. She is attracted to Julian but afraid of what could happen.
Julian is trying to cope with his grief and the sudden need to fill his brother's shoes. He uses logic and reasoning to make decisions and the sudden influx of emotions is messing with his usual way of doing things. Katrina's compassion gives him a safe place to escape to. He is attracted to her but feels he has too much going on to have any kind of serious relationship.
The attraction that they feel for each other and act on they each feel will be short lived. Katrina doesn't trust that her past will stay in the past and Julian feels he has too much else going on for a real relationship. When the tabloid press get involved, Katrina feels that her fears have come to pass. Julian tries to convince her to stay, but goes about it in the wrong way. I was happy to see that Katrina had the courage to stand up for what was right for her. Julian was so overwhelmed with running the kingdom that he ignored what was happening to him. And when he finally realized it, he didn't want to admit it because it was just one more thing piled up on him. It wasn't until Katrina was gone that he realized how much he needed her. I loved seeing him go after her and convince her of his feelings.