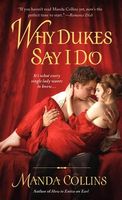 Series:
Wicked Widows
(Book 1)
Even in London society--where everyone knows what you did last season--you never know who's next in line to walk down the aisle...
TRUE LOVE IS OFTEN FOUND
With her whirlwind social life in London, Lady Isabella Wharton has little interest in the customs of the country. But when her godmother asks her to pay a visit to her bachelor grandson in Yorkshire, Isabella can't refuse. It behooves her to please the old dowager, since she harbors one of Isabella's most scandalous secrets. So off she goes to see the newly-titled--and notoriously rustic--Duke of Ormond...
WHERE YOU LEAST EXPECT IT
Trevor Carey doesn't care about what goes on behind ballroom doors. He is content with the simple life--and isn't ashamed to admit it to a society flirt like Lady Isabella. But the country air brings out a different side of Isabella--one full of longing and passion. Can her sophistication be hiding a desire for love? When a blackmailer from the city arrives to threaten Isabella, Trevor will shield her from harm--even travel to London. Can the duke tackle the "ton" on Isabella's behalf ...and manage to keep her all to himself?
Excellent beginning to the series. Isabella, her sister Perdita, and their friend Georgiana, start the book by being present at a death. Perdita's husband, the Duke, is an abusive man and is holding a knife at her throat. Isabella and Georgiana are trying to get him to stop. Georgiana shoots him in the shoulder and he falls on the knife. He's dead and they don't know if it was the bullet or the knife that did it, so the death could be accidental or murder.
Isabella gets stuck going to Yorkshire to try to talk her godmother's grandson, the new Duke, into coming to London. The godmother knows what happened that night and uses that knowledge to force Isabella's cooperation. Trevor has no interest in doing as his grandmother wishes. His father was disowned by his parents when he married "beneath" him and he has no intention of doing what she wants.
The first meeting between the two doesn't go very well. Isabella's carriage has broken down and Trevor is the one who happens along. He sees Isabella as a social climber or someone who wants something from the duke. She sees him as a country farmer who is neglecting his responsibilities. Because it will take at least a week for the repairs to her carriage they come to an agreement about her stay. She will spend time with Trevor as he goes about his activities so she can see his point that he needs to be where he is. In return he will go to London for a short time to settle things with his grandmother.
Almost immediately both Isabella and Trevor discover that the other isn't quite what they thought. Isabella discovers that Trevor is a man who loves his sisters and is devoted to doing his best for his lands and his people. In spite of the misery of her marriage and her bad experiences with her father, she senses that Trevor is a man she can trust. As she goes around his lands with him, Trevor gets to know Isabella and realizes that she is a woman with a soft heart who has learned to hide it. He's impressed with the way she handles his sisters and the intelligence she shows in everything from land management to politics. The romance that develops between them is slow growing but once it starts to take off it is intense. That heat that sparks also pushes them into a marriage that they hadn't planned but both were satisfied with. Though neither admits to love at the time, it is obvious that the feelings are there.
When Trevor finds out that Isabella is receiving threatening notes and then there are two attempts on her life, his protective instincts take over. He is determined that nothing happen to her while she is under his care. I enjoyed seeing the way that he took charge but still gave Isabella the freedom that she needed. There were some interesting twists and turns to the mystery of who was behind the threats. I did figure that out before the end, but there is still some question as to who else is involved. As the other two ladies still need to have their stories told, I expect that there will be more trouble ahead.
Besides the romance and the mystery, there are parts of the book that are just plain fun. Trevor is a man who loves his two sisters, but he is also at something of a loss at how to deal with them at times. The oldest sister is seventeen but he doesn't want to admit that she is growing up. It was great fun to see his reaction to her in a more adult dress. There are some wonderful interactions between him and the two girls. His friend Lucien Blakemore also has some great parts where he gives Trevor a hard time about his feelings for Isabella. I also enjoyed seeing Isabella school Trevor on just what it is like to be a woman in their society. One of my favorite parts was their arrival in London and breaking the news to the grandmother and others that they are married. I did wonder about the extreme reaction that the grandmother had and wonder if she's more involved in the trouble than I thought at first. I am looking forward to the other two books to see how it all turns out.