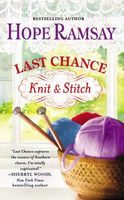 Series:
Last Chance
(Book 6)
Molly Canaday wishes she could repair her life as easily as she fixes cars. She was all set to open her own body shop in Last Chance when her mother ran off and left her to manage the family yarn shop instead. Now guided by the unsolicited-though well-intended-advice of the weekly knitting club, Molly works to untangle this mess. But her plan unravels when the new landlord turns out to be difficult-as well as tall, dark, and handsome.
Simon Wolfe returns to quickly settle his father's estate and then leave Last Chance for good. Still wounded by a broken heart, Simon is surprised when the town's charming streets and gentle spirit bring back good memories. Soon the beautiful, strong-willed Molly sparks a powerful attraction that tempts him to break his iron-clad no-commitment rule. Can Simon and Molly find a way to share work space-and build a future together in Last Chance?
Good book. Molly has been pretty content with her life. She enjoys her work as a mechanic and has plans to open her own body shop as soon as she sells the car she's restoring now. Her creative side is satisfied by her knitting. Then everything goes to hell when her mother runs away from home, leaving Molly in charge of the knitting shop and running things at home. The local banker is holding the car she's restoring hostage, and the building she wanted for her business is suddenly leased to someone else.
Simon has returned to Last Chance to settle his father's estate. He hasn't been home since he argued with his parents about following his own path. The memories he has of Last Chance aren't the best. His parents were always fighting when he was a kid and he got caught in the middle. He was present at the death of his best friend. Now he just wants to settle things and go home to California. He is an artist who has a major commission to finish and it isn't going well. He doesn't expect to feel an attraction to Molly, who was just a child when he left.
Both Molly and Simon have some pretty major parental issues going on. Molly is in her twenties, still living at home, and dealing with her parents' expectations. When her mom takes off, Molly is expected to step right in and take over. Mom has never approved of Molly's dreams for her car restoration business and constantly tries to change Molly into what she wants. Meanwhile, after several years as a child being treated like a son by her father, when her brothers were born she was suddenly expected to turn into a girly girl. She tries hard to make people understand who she is, but it's an uphill battle. Simon has returned to deal with his father's death. He's dealing with a boatload of guilt because they never mended fences, but he isn't sorry that he stood up for himself. When he arrives home it's to discover that his mother suffers from dementia and most of the time doesn't recognize him. Even when she does, she treats him badly.
When Molly and Simon first meet, there is some antagonism. But there are also sparks. Simon offers her space in his building where she can work on her car while he works on his painting. They find themselves getting closer and building a friendship that slowly starts to develop into something more. Each of them resists the idea because neither is interested in commitment. They also have to deal with a whole bunch of interference from various members of the town. Everyone is trying to push Molly into a relationship with her friend Les and she doesn't care for him that way. And both of them are getting a boatload of grief from Molly's father, who had also been Simon's football coach. He keeps harping on the age difference between Molly and Simon and refuses to see that it shouldn't make any difference. I got really angry at the way everyone seemed to cave in to Coach's wishes when he was being so obnoxious.
I loved seeing how great Molly and Simon were with and for each other. Simon understood just what made Molly the person she was. He loved the contrasts in her personality, from her ability with cars to her knitting creativity. He also was able to see when she needed the closeness of his touch. I also liked the way he supported her choices by giving her the space to use. The only thing I didn't like was the way he let Coach talk to him. On her side, Molly saw past the shell that Simon showed to everyone else in town. She didn't like the way that they all treated him, especially once she got to know him better. I loved the scene where she talked him into playing hooky, and then he got her to go skinny dipping. Things really started to heat up between them at that point. They had so much going for them if they could just get up the backbone to go after what they wanted. There was a very nice twist to the ending, as both Simon and Molly realized what they wanted and what they had to do.
I loved visiting the town of Last Chance again and seeing old and new friends. Miriam, and now Savannah, are still making their ambiguous matchmaking predictions. The book club is still arguing over its selections. I especially enjoyed the scenes in the knit shop. The Purly Girls knitting group was fun to watch. I could also easily picture the chaos created by the toddler who was running wild. One of my favorite characters was Angel, Simon's assistant. He was so quickly absorbed and accepted by most of the town, despite his differences. I especially loved his involvement in so many things that benefited by his touch. He was such a people person that he was a delight to watch. I also loved the way that he was the one who was able to get through to Simon and get him back where he belonged. I really hope to see more of him in later books.