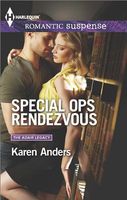 Series:
Adair Legacy
(Book 3)
A beautiful P.I. and a damaged warrior race to prevent an assassination
He can't remember what they did to him while he'd been held captive. But the blackouts and memory loss Sam Winston suffers since returning home scare the decorated soldier more than combat. Most of all, he fears placing those he cares about in danger...especially Olivia Owens.
Despite the risks, the gorgeous investigator is determined to help Sam remember the terrible secrets locked inside his head. Olivia is convinced he's the key to a terrifying conspiracy. Working closely together, Olivia hopes that Sam makes progress with uncovering the past, and that the walls around his long-guarded heart fall down....
This series just keeps getting better. I have been waiting for Sam's story since the first book. He is still trying to recover from the torture he was subjected to while a prisoner in Afghanistan. His blackouts and memory loss scare him because of the things he sees in his nightmares. Just as he feels he is starting to make some progress, the therapist he has been working with is brutally murdered. Then he discovers that the doctor had asked his private investigator sister to keep an eye on Sam, fearing that he was in danger. Sam is afraid that what is going on with him will bring harm to those he cares about - his family, and now Olivia.
Sam is the middle son of Kate Winston, former vice president and possible presidential candidate. There is also a great deal of family wealth. Sam wanted to make his way on his own merits, so joined the military and became a Ranger. After his rescue he has come home to try to get his head back together before going back on duty. In the last couple months there have been attempts on his mother's life, including one by a fellow Ranger and friend of Sam's, who had also been captured with him. Sam is worried that he's somehow involved.
Olivia wasn't sure about her brother's request until she saw some suspicious people following Sam and then her brother was murdered. Now she is determined to help Sam unlock the mystery of what had happened to him, and hope that she can also catch whoever killed her brother. She doesn't expect the fiery chemistry and instant connection she feels with Sam.
I loved Sam and Olivia. Sam loves his family and will do anything in his power to protect them. The nightmares and blackouts have him convinced that he is a danger to them so he has withdrawn as much as he can. With the loss of Dr. Owen he fears for his own sanity until Olivia makes her appearance. He is amazed that he is so easily able to open up to her and how much she is able to help him. The connection that he feels for her is unlike anything he's felt for anyone else. Because he plans to go back on duty he doesn't feel right about getting involved with her, but he has zero resistance to what is happening with them. It's also fun to see how much her determination and capabilities sometimes surprise him and turn him on.
One of the things I loved best about Olivia is the way she doesn't back down when Sam tries to intimidate her into doing things his way. She has just the kind of personality he needs. It was so much fun seeing her match him step for step in their actions as they go after the bad guys. I also loved that she was convinced that they could unlock his memories. Olivia was not going to give up on him. The love she had for him gave her so much strength as she helped him work through his terrors of his torture. At the end Sam has to face what's left of the memories and deal with them and Olivia has to have the confidence to let him go until he does. I was incredibly moved by what happened next and loved seeing them deal with their futures.
The mystery itself has been getting more intense. In the previous book
Executive Protection
, there have been two attacks on Kate. It is discovered that the last attempt appears to be part of a conspiracy. With the identity of that shooter revealed, the idea that Sam's problems could be related become more likely. The partnership of Sam and Olivia in investigating draws some dangerous attention as one of the people behind it tries to take Olivia out of the picture. As Sam gets closer to remembering what happened to him the bad guys are more determined that he doesn't, at least until they are able to carry out their plan. The suspense at that point was incredible and kept me turning the pages to the end. The final confrontations were intense, with both expected and unexpected actions. By the end, they are one step closer to the mastermind. There is a new twist that appears and ties together one of the mysteries of the first book with the heroine of the next. I can't wait to read it!